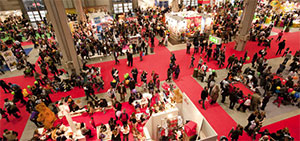 Every business owner understands the importance of taking advantage of trade shows and business expos, as this is the main approach for businesses to show masses of people their product or services for a minimal outlay. But how do you draw the attention of potential customers when there are so many other booths to compete with? Our expert advice will help you make the most of your time by maximising the exposure your business receives.
Make sure people know that you are going to be at the expo by advertising well before the event. A simple way to do this is by placing posters in the window or reception of your business, advertising on social media and by updating the company website. Another idea is to send invitations out to current customers – happy customers are guaranteed to spread the word.
Try to secure a booth in the high traffic area. If this is impossible, aim to be as close to that area as possible.
First impressions last, so always make sure your booth has clear signage. If people can't see who you are or what you are about, they are unlikely to approach. Let your banners do some of the work for you by clearly stating who you are.
Always allow enough time to set the booth up properly to professional standards. Again, first impressions last, and a hastily constructed display conveys the wrong message to customers.
Develop a theme for your booth that reflects both the business and what the business has to offer. This can be carried through from staff uniforms and displays to goodie bags and other promotional material, such as discount coupons and competitions.
The best displays are interactive and fun. Draw people to your space by making them feel as though they are missing out on the action.
Try not to make the space too cluttered, remembering that staff will need room to interact with customers. Good presentation is the key to drawing people in. There is nothing worse than feeling claustrophobic, and that is not something you want potential clients to associate with your booth.
Make sure you have a good supply of business cards, company information, and brochures for attendants to hand out, as well as pens and paper to take notes. Many people prefer to look through information after the trade show when they can concentrate.
Advise attendants to avoid talking too much, and to stick to the 80/20 rule. By listening to the customer for 80% of the time, you can get a better understanding of their expectations and what they are looking for in a business. Plus, there's nothing worse than a salesperson who does not stop talking.
Include photos and stories that show the success of your business. Whether you are selling a product or a service, everyone wants to know whether a business is genuine. Happy customers from the past are a great way of showing this.
Always follow up with new leads or contacts after the event. After a day where multiple introductions can be forgotten, a simple email thanking the person for their time is a good way to remind them about your business and jog their memory.