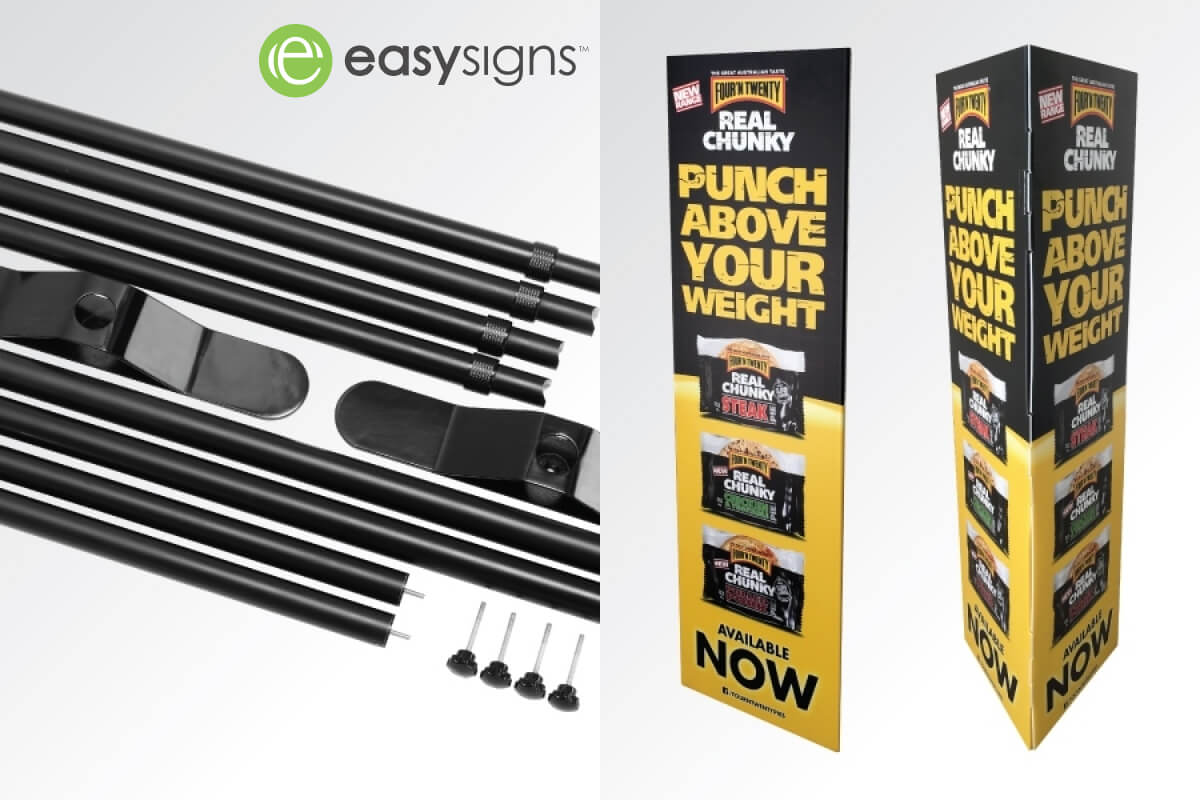 You've put a lot of effort into designing your Step and Repeat backdrop banner to look exactly the way you want it to.
Doesn't it then make sense to make sure the banner stand is just as excellent as the banner itself?
Key Takeaway
Selecting the appropriate Step and Repeat frame is essential for your event's success.
There are various frame types available, from telescoping stands for smaller events to media walls for high-profile occasions and each frame type offers unique advantages to cater to your specific needs.
It's important to seek the needed expert advice and support from professionals to ensure you make the right frame choice that aligns with your event's goals and aesthetics.
The frame not only provides structural support but also ensures that your banner stands tall and proud for all to see.
Let's explore various Step and Repeat frame options to help you frame your success in style.
The Picture Perfect Backdrop: Your Ultimate Guide to Step and Repeat Banners
The Rise of the Step and Repeat Banner
Step and Repeat Backdrops are iconic fixtures at red carpet events, galas, fashion premieres, corporate gatherings, and even trade shows.
The repeating pattern on a Step and Repeat backdrop is a great marketing tool for times when you want to promote a company, a concept, or a new product line.
They also serve as the perfect backdrop for event photography, which not only elevates the visual appeal but also gives your guests a fun way to interact at your event.
However, behind the scenes of these stunning visual displays are the backbone of any successful event… the banner stands that are designed to support them.
Though you will most likely spend a decent amount of time thinking about what banner size you need and how you wish to design it, the frame you use can also make a big difference in the overall look of your banner at your event.
A banner stand can significantly impact your banner's stability, overall aesthetics, and how easy it is to set up, take down, and even store.
Let's do a deeper dive into the basic types of stands commonly used for Step and Repeat backdrops so you can have one less thing to worry about as you plan for your special event.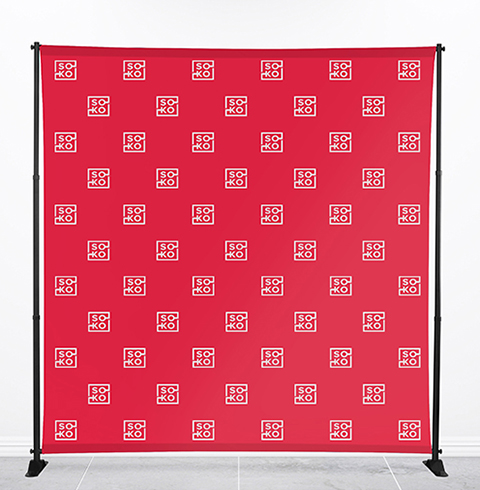 Starting with the Basics: The Most Common Banner Stand Types
Step and Repeat Banners can be paired with various stand types, each one designed to cater to specific needs and event sizes. Which one you choose will have a lot to do with the nature of your event and the size of your Step and Repeat Banner.
#1: Telescoping Stands
Telescoping stands are the most popular choice for Step and Repeat Banners. They offer a user-friendly setup with telescopic poles that extend and contract, much like a telescope. Here are some key features:
✓

Telescoping poles are easy to adjust and collapse.

✓

All poles conveniently fit into a carrying case, typically around 48" wide.

✓

Ideal for smaller events, typically up to 8x10 or 8x12 banner sizes.
#2: Pipe and Base Stands
Pipe and base stands (also known as Pipe and Drape) are ideal for larger banners. They are adjustable and straightforward to set up. Key features include:
✓

Adjustable horizontal supports securely attach to vertical poles.

✓

Suitable for larger Step and Repeat Banners.

✓

Available for rent if a one-time use is preferable.
#3: Truss Displays
Truss displays feature high-quality aluminum alloy trusses designed for live stages, theaters, nightclubs, and event installations. Highlights of truss displays include:
✓

Sturdy construction is suitable for larger events.

✓

Well-suited for creating impressive, eye-catching displays.

✓

Offers a professional and polished appearance.
#4: Pop-Up Displays
Pop-up displays provide portability and quick setup without the need for tools. They are ideal for hassle-free assembly. Key characteristics include:
✓

An easy-to-use frame that sets up in minutes.

✓

Fabric graphics securely attach to the frame with Velcro.

✓

Available in various sizes to suit your needs.
Choosing the right Step and Repeat frame is going to be a pivotal part of ensuring that your banner shines as a visual centerpiece of your event.
The frame on which your banner is displayed not only supports the banner but also contributes to the overall aesthetics and functionality.
The Popularity of Telescoping Stands: Versatility in a Compact Package
The telescoping stand is an excellent choice for smaller events, offering tons of versatility, ease of use, and portability. Here's more on why it's a popular option:
Versatile Adjustability: Telescoping poles are designed with a multiple twist-lock mechanism that allows each pole to be extended or contracted as needed. This twist-lock system is inserted into pole pockets that help stabilize it and help make them easy to adjust.
Simple Setup: Users find telescoping stands easy to set up. The straightforward process involves twisting the locking mechanism to extend the poles to the desired length and twisting it again to securely lock them in place.
Adaptable to Banner Sizes: Telescoping stands offer adaptability to accommodate various banner sizes. Whether you have a smaller 8x10 banner or a slightly larger 8x12 one, these stands can be customized to fit the exact dimensions, ensuring a snug and professional display.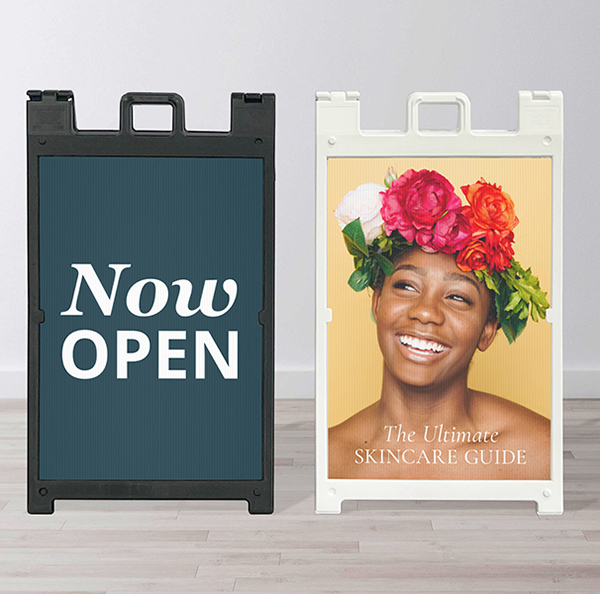 Removable Center Piece: Many telescoping stands feature horizontal poles with a centerpiece that can be removed. This feature allows for further flexibility, enabling users to reduce the media wall to smaller sizes when necessary.
When you are getting ready to place your Step and Repeat banner order, make sure you've done your research and determined the appropriate repeat stand size before ordering your backdrop.
Making sure that your backdrop matches the chosen frame size ensures a perfect fit and a seamless appearance every time you use it.
Are you unsure of what size Step and Repeat stand is going to be best for you? If so, reach out to the expert team at Easy Signs to help you create the perfect all-inclusive banner before you commit!
Easy Signs: A Creative and Cost-Effective Way to Take Your Event to the Next Level
The success of your Step and Repeat Banner relies not only on the captivating design you create on the banner but also on the frame that supports it.
Each type of Step and Repeat frame offers unique advantages, catering to various event sizes, styles, and requirements.
When selecting a frame, consider the size of your banner, the nature of your event, and the visual impact you wish to achieve.
At Easy Signs, we are in the business of helping our customers find creative and cost-effective ways to promote and enjoy whatever event they have planned.
Not only do we have excellent online design tools to help you make the most memorable banner, but we also have a highly skilled team who is ready to answer any remaining questions you may have.
The right banner stand is going to help frame your success, elevate your brand, and create an unforgettable event experience. Let Easy Signs help you get there.