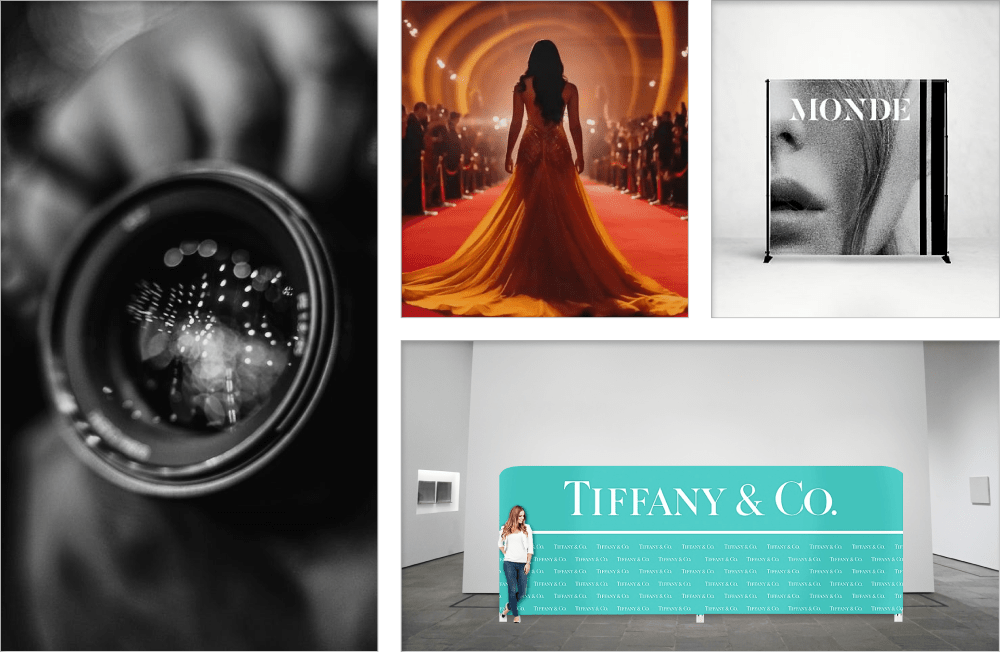 There are few places where stars have a better opportunity to shine than on the red carpet. Why?

Because these are some of the places where every camera, every phone, and every face is turned to them.

And behind every well-photographed star is a Step and Repeat Banner.
Key Takeaway
Step and Repeat Banners have been a constant marketing tool at star-studded and red-carpet events for years.
In recent years, Step and Repeat Banners have become a popular way for regular folks to promote their business or entertain their guests.
Making the most of your Step and Repeat is easy as long as you follow some basic steps before, during, and after your event.
From movie premiers to fashion shows to even events like a world-watched sporting finale, Step and Repeat Banners are now being seen everywhere as a way to promote brands, recognize sponsors, and create stunning photo opportunities.
These versatile backdrops have evolved from their red carpet-origins to become an integral part of various events and marketing strategies, offering a blend of elegance, visibility, and brand appeal.
Whether it's capturing the essence of Hollywood glamor or showcasing a business's latest product launch, Step and Repeat Banners continue to prove that they are more than just a backdrop - they are a canvas for success and a spotlight for brands and individuals alike.

Let's look specifically at how you can use a Step and Repeat Banner for your own personal event, regardless of the size, audience, or intent!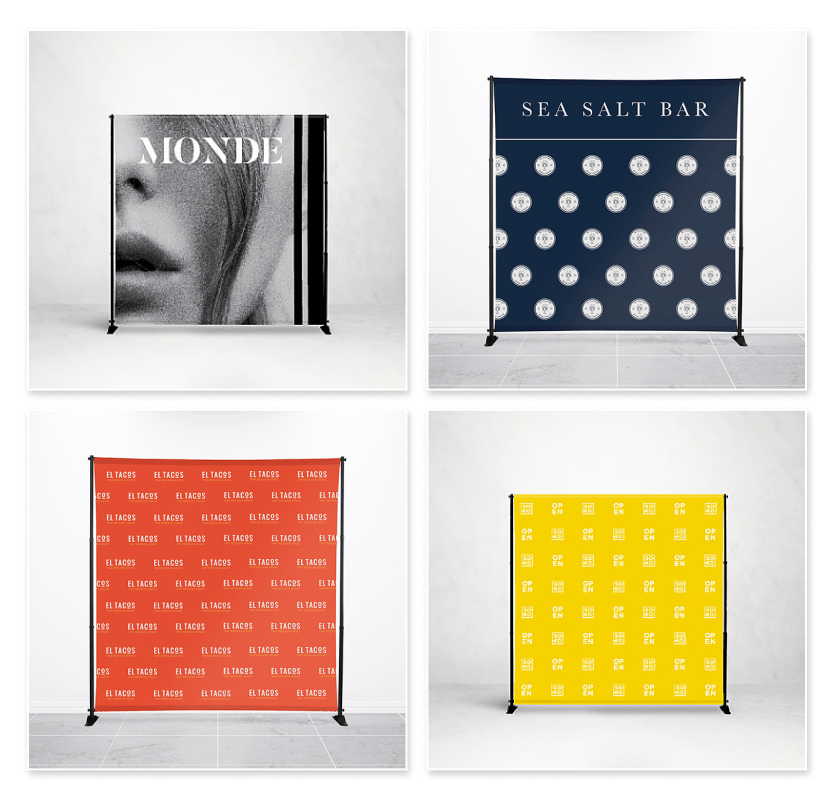 Your Ultimate Guide To
Step And Repeat

Banners

Elevate your event aesthetics with Step and Repeat Banners: Your essential guide to creating a flawless backdrop.
The (Brief) History of the Step and Repeat Backdrop
You've seen your favorite stars standing in front of them…and maybe you've wondered why.

From mainstream pop icons like Justin Bieber to notable movie stars like Russell Crowe, Step and Repeat Backdrops gives these people a chance to make sure that the event's guests are being seen while also promoting their brands and the brands of their sponsors.
For years, Step and Repeat Banners have been a win-win event item for both celebrities and the sponsors that support them.
But what exactly makes Step and Repeat Banners so popular on the red carpet, and how do they achieve this dual purpose so effectively, for so little cost or set-up?

Let's find out.
The Birth of the Step and Repeat Banner
The history of Step and Repeat Banner walls can be traced back to Hollywood's golden age.
These repeating pattern backdrops originally emerged as a unique feature of the entertainment industry, particularly at events like movie premieres, fashion events, and awards ceremonies.
The concept behind the backdrops was simple yet effective: create a visually appealing press wall where stars could stand and be photographed. Then, adorn it with logos, brand names, or event titles, which would all serve as a perfect backdrop for celebrities and VIPs as they posed for photographs and - inadvertently - promoted the business or product displayed behind them.
The name "Step and Repeat" comes from the idea that when celebrities step onto the red carpet, they repeat the process of posing in front of this banner multiple times, allowing photographers to capture images that prominently feature the logos and branding in the background.

This not only provided sponsors with valuable visibility but also gave media outlets compelling visuals to accompany their coverage of the event.
The Step and Repeat Banner Today
Over time, Step and Repeat Banners transitioned from being exclusively associated with the film industry to becoming a versatile marketing tool used in a wide range of events, including fashion shows, corporate gatherings, product launches, and charity galas.
The appeal of these repeat backdrops lies in their ability to enhance brand recognition, create engaging photo opportunities, and add an air of sophistication to any occasion.
These days, Step and Repeat Banners are not limited to the red carpet…they can be seen at various events where branding, sponsor recognition, and media coverage are essential.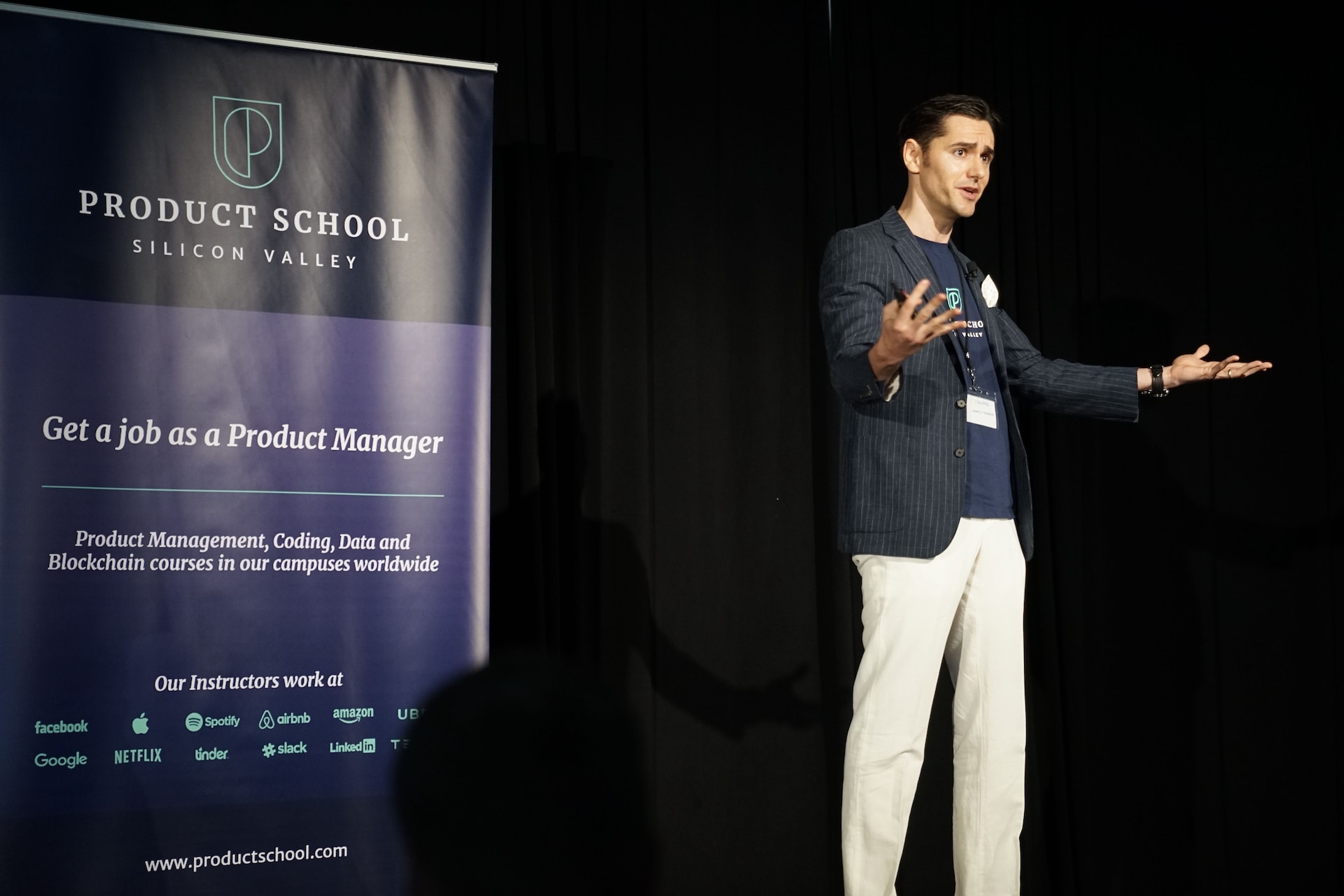 Now, a Step and Repeat Banner is a publicity backdrop that is used primarily for event photography and is printed with a repeating pattern such that brand logos or emblems are visible in photographs for the individuals standing in front of it.
This evolution of Step and Repeat walls has gone from a Hollywood phenomenon to a mainstream marketing tool.

Step and Repeat Banners provide a hostess or event planner everything from being able to provide free advertising to a sponsor to being the social highlight of any informal or professional event.
Your Ultimate Guide To
Step And Repeat

Banners

Step up your event game with Step and Repeat Banners – your go-to guide for the perfect backdrop.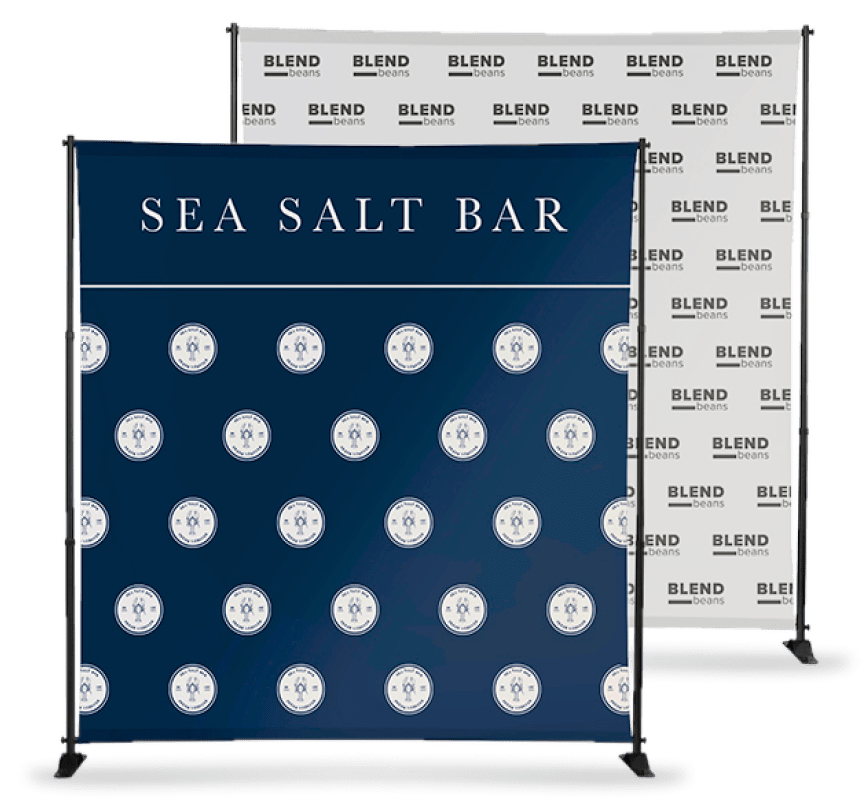 How Can I Use a Step and Repeat Banner at My Next Event?
To make the most of a Step and Repeat Banner at your next event, consider these key tips and strategies:
Before the Event:
✓

Plan Ahead: Start designing your Step and Repeat well ahead of the time you need it to be ready. Once you secure your event sponsors, you can begin working with your online design team to create the look you want.

✓

Variety of Sizes: Depending on your event space and audience size, you will want to choose an appropriate banner size to make sure it's visible, easily accessible, and fits the venue. That said, pick a banner size that is big enough to increase brand awareness but doesn't overwhelm your attendees.

✓

Coordinate Lighting: Ensure your lighting is set in a way that best accentuates the banner and the guests you'll have posing in front of it. You'll want to make sure to avoid glare and shadows and check to see that each company's logo is visible.

✓

Quality Printing: Work with a reputable sign and printing company that prioritizes high-resolution printing to ensure sharp and vibrant imagery on the banner. The best ones will have in-house design teams that will work with you to make sure you are happy with the banner well before it's printed and shipped.
During the Event
✓

Placement is Key: Position the banner and the banner stand at a high-visibility location where your guests are likely to gather, such as the entrance to your event, the staging area, or near any publicity tents. You want to encourage media attention as well as plenty of engagement from your guests. You may even consider making the Step and Repeat backdrop into a designated photo booth!

✓

Optimize Social Media: Encourage attendees to share photos on social media using event-specific hashtags. This extends your event's reach well beyond one day or evening.

✓

Create an Event Hashtag: Make sure to create and promote a unique hashtag for your event to encourage attendees to tag their photos on social media platforms. You can even place the hashtag on the Step and Repeat so it's easily seen and used.

✓

Engage Attendees: Consider hosting a contest or a giveaway that's related to photos taken in front of the Step and Repeat Banner. This can boost engagement and interaction and get everyone involved in the fun.

✓

Consider a Professional: Not only should your Step and Repeat look professional but the photos should too. Think about hiring a professional photographer to capture high-quality images of attendees posing in front of the banner. These images can be used as keepsakes for your guests as well as post-event marketing.

✓

Give Clear Instructions: Provide clear instructions for your attendees on how to take photos in front of the banner, including where to look, how to stand, and how to share them on social media. The more your guests like their photos, the more they'll be excited about sharing them with the rest of the world.
After the Event
✓

Pack Carefully: If you're planning to get multiple uses out of your banner it's a good idea to take your time when packing it up. A well-made Step and Repeat will be durable, but you'll want to make sure you pack it correctly to keep it damage and wrinkle-free and ready for the next big occasion.

✓

Make a Lasting Impression: Make sure that your event is not easy to forget by providing your guests with keepsakes to take with them. You can set up an on-site printing station or share digital copies through email or a dedicated event app. This will give your guests a way to remember you and your event as well as reinforce your branding each time they look at their photos.
It's a memorable way to extend the impact of your Step and Repeat Banner beyond the event itself.

By implementing these strategies, you can effectively use a Step and Repeat Banner to enhance your event's branding and make sure that it is one of the highlights of your gathering.
When You Need the Best Backdrop Banner, Easy Signs is Ready to Help
From trade shows to birthday parties, Step and Repeat banners have become a favorite item on every event planner's list.
These impressive backdrops can do a lot for an occasion. Not only are they a great way to promote a brand or product, but they can also be an eye-catching entertainment item for your guests to enjoy. Backdrop banners are colorful, creative and all-around fun!
When you're ready to begin designing your Step and Repeat Banner, our happiness team is ready to help.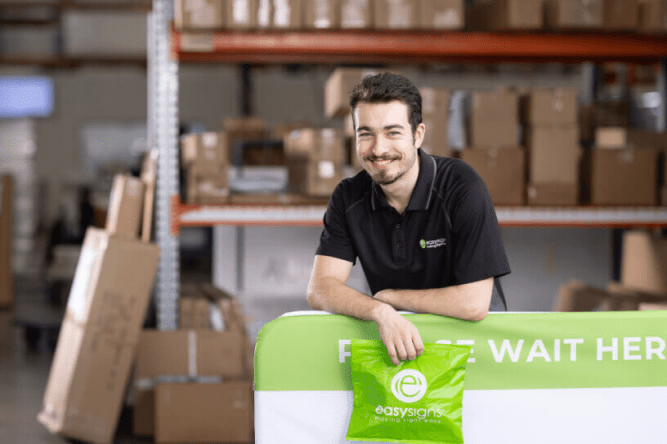 Whether you have questions about design layout, banner size, or the difference between a fabric banner and a vinyl banner, our experts know their business and can't wait to talk to you.

Why wait? Get started on your Step and Repeat Banner today!
Your Ultimate Guide To
Step And Repeat

Banners

Strike a pose with our Step and Repeat Banner guide!
Elevate your event photography game.