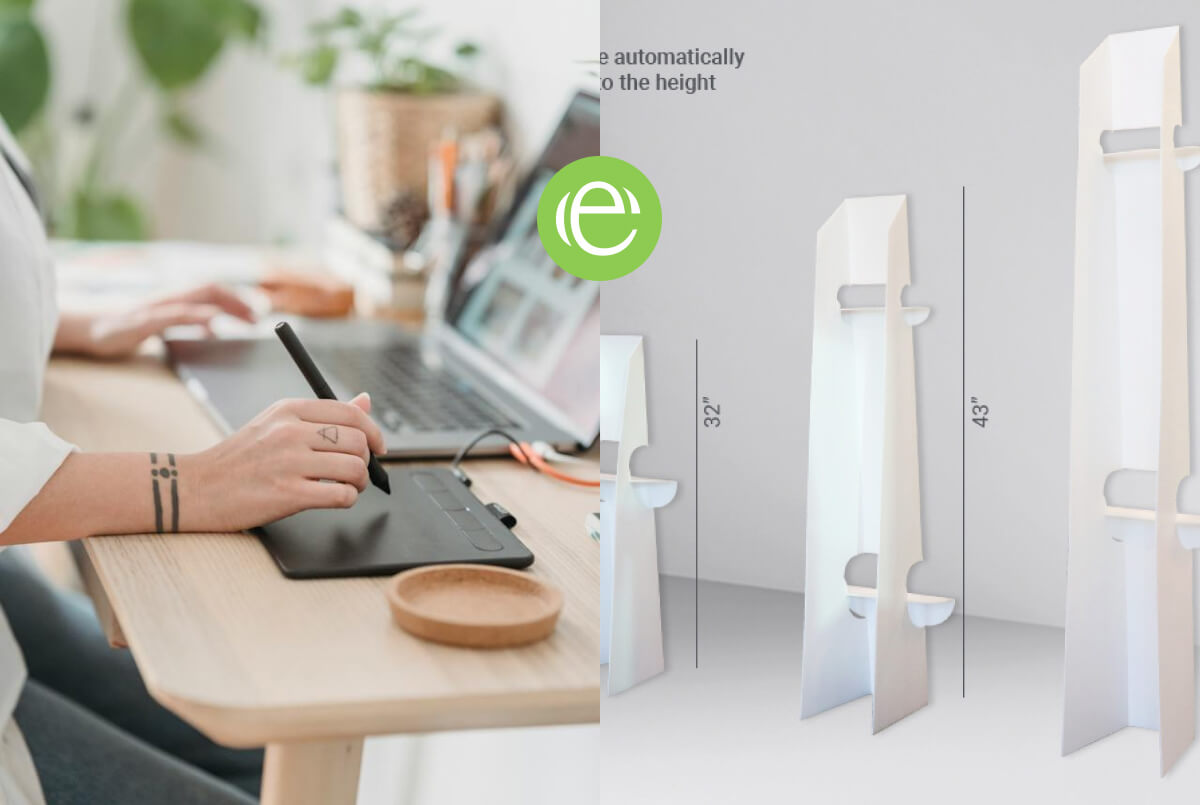 Whether you're preparing for a star-studded event, a corporate gathering, or a special celebration, a Step and Repeat Banner can be the star of the show.
Key Takeaway
A custom Step and Repeat Banner can make a big difference for your next event as not only a great way to promote brand awareness but also as an entertainment value for your guests.
Backdrop banners need to be well-thought-out for optimal success, from the size you choose to the way the graphics are displayed.
Personalized banners are not hard to create and will make your event even more special when you follow the 7 steps listed below.
Step and Repeat Banners are designed to make your event memorable, especially when they are created with certain criteria in mind.
Here are the steps that will make sure that your backdrop is as talked about as the event itself!
1. Choose the Right Sized Banner
When it comes to creating your own personalized banners, making sure you get the right size banner and banner stand is an important first step in the overall process.
Here's why:
✓

Visibility and Brand Recognition: A larger banner provides more space for logos, branding elements, and sponsor recognition. This increased visibility ensures that logos and branding are prominently displayed in event photographs and media coverage, enhancing brand recognition among a wider audience.

✓

Accommodating Photo Opportunities: Step and Repeat Banners are primarily used as backdrops for photographs. The banner's size should comfortably accommodate the desired group size for photos, whether it's a single individual, a couple, or larger groups.

✓

Impact on Event Aesthetics: The size of the banner should complement the event venue and space without appearing too large or overwhelming or too small and inconspicuous. It should harmoniously fit within the event setting, enhancing the overall aesthetics and ambiance.

✓

Sponsor and Logo Recognition: For events that involve sponsors and partner organizations, the number of logos to be featured on the Step and Repeat Banner influences its size. Each sponsor's logo should have sufficient space to be displayed clearly and prominently.

✓

Event Type and Goals: The nature of your event and its objectives should guide your decisions about banner size. Events focused on high-profile brand exposure, such as red carpet premieres or major product launches, may benefit from larger banners to maximize impact. Smaller, intimate events, on the other hand, may require more modest banner sizes that align with the event's aesthetics and objectives.
To make sure your actual banner size provides the perfect backdrop, consider its dimensions carefully.
A good rule of thumb is to make sure your Step and Repeat banner stand is just over 8 feet tall to ensure it extends above people's heads.
For the width, think about the likely group sizes in photos and ensure your banner stand is wide enough to accommodate everyone.
2. Get the Logo Sizing Right
Finding the ideal logo size is going to make a big difference in how the overall banner looks and its appeal to not only your guests but your sponsors as well.
Logos that are too small may not be visible in photos, while oversized logos could get covered by participants, or detract from their outfits and images.
You'll also want to consider factors like logo intricacy and the photographer's distance when determining the right size for the repeating pattern they will end up creating.
3. Provide Adequate Space Between Logos
Not only is the size of your logos important, but the space will be as well.
A logo will need breathing room on your Step and Repeat Banner in order to look good as well as be read.
Avoid cramming in too many logos with too little space between them, as this can make the banner look cluttered and be unappealing for guests to want to pose in front of.
Strike a balance between distinguishable logos and a pleasing pattern appearance.
4. Use High-Resolution Images
High-resolution images and print ready files are the foundation of a crisp and clear Step and Repeat Banner.
Most graphic designers and photographers suggest that you aim for a resolution of at least 100 DPI at full size to ensure your design looks sharp when it's enlarged.
This is where you may want to consider working with an online company that specializes in making Step and Repeat banners. The most reputable ones will have online tools like this one to make this process a breeze
5. Choose Contrasting Colors
Choosing contrasting colors for your Step and Repeat Banner is essential to ensure your branding elements grab attention.
High-contrast combinations, like dark logos on a light background or vice versa, create a visually striking effect that makes logos stand out.
Avoiding color combinations that cause logos to blend into the background is crucial for readability and visual impact.
When you're uncertain about color choices, neutral backgrounds such as black or off-white are reliable options. These neutral backdrops provide a clean canvas for logos to shine without overwhelming the banner's overall appearance, ensuring your Step and Repeat Banner makes a memorable statement.
6. Fit the Feel of the Event
When it comes to Step and Repeat Banners, aligning the design with the ambiance of your event can significantly enhance its impact and resonance with attendees.
Here are some suggestions to ensure your banner fits the feel of the occasion:
Elegance for Formal Events: For formal gatherings like black-tie galas, awards ceremonies, or corporate banquets, opt for an elegant design. Consider classic color schemes, sophisticated fonts, and minimalist layouts. Use subdued tones like deep blues, blacks, or metallic accents to convey a sense of refinement and sophistication.
Fun and Whimsy for Casual Affairs: Casual events, such as outdoor festivals, family reunions, or children's parties, call for a more relaxed and whimsical banner design. Incorporate playful colors, cheerful fonts, and vibrant graphics. Think about incorporating elements that reflect the theme of the event, like beach motifs for a summer party or festive patterns for a holiday gathering.
Event-Specific Logos and Hashtags: To make your Step and Repeat Banner uniquely tailored to the event, consider creating special logos or event-specific hashtags. These additions can reinforce your branding while adding a personal touch. For example, a charity gala could feature a logo combining their cause with the event theme, while a music festival might use an event-specific hashtag that encourages attendees to share their photos on social media.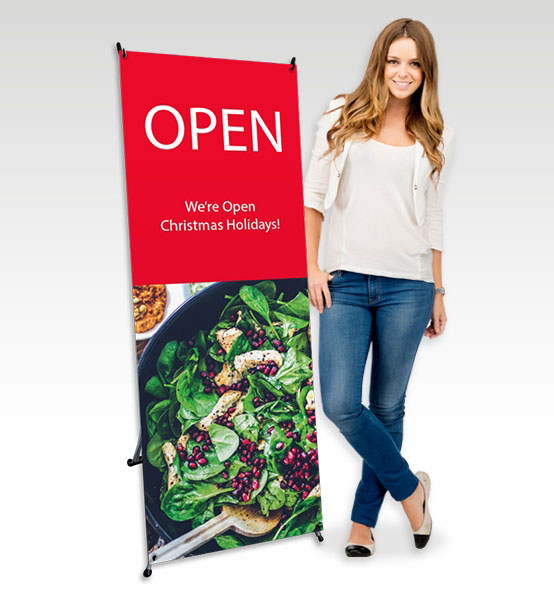 7. Take Steps to Avoid Glare
Having too much glare on your Step and Repeat backdrops can really detract from the quality of photos taken against your banner.
Consider the material and color of your banner.
Fabric banners are less likely to create glare than a vinyl banner will, especially if the vinyl banner has a non-matte finish. Opting for darker-colored backgrounds can also help minimize reflections and improve picture quality.
When you decide to take the time to incorporate these seven tips into your Step and Repeat Banner design, it will ensure that not only will your banner stand out but it will also provide the perfect backdrop for unforgettable event photos.
Step Up Your Event's Game with the Right Step and Repeat Banner from Easy Signs!
Making your Step and Repeat Banners step out of the darkness and into the light of your event won't be hard when you follow the above steps and enlist the help of a reputable company to help you.
At Easy Signs, creating memorable and picture-perfect backdrop banners is our passion.
With a whole host of skilled designers and an excellent team of customer service people, we are excited to work with you to make the banner that you've been hoping for.
Are you ready to start the process? Then reach out to Easy Signs today!