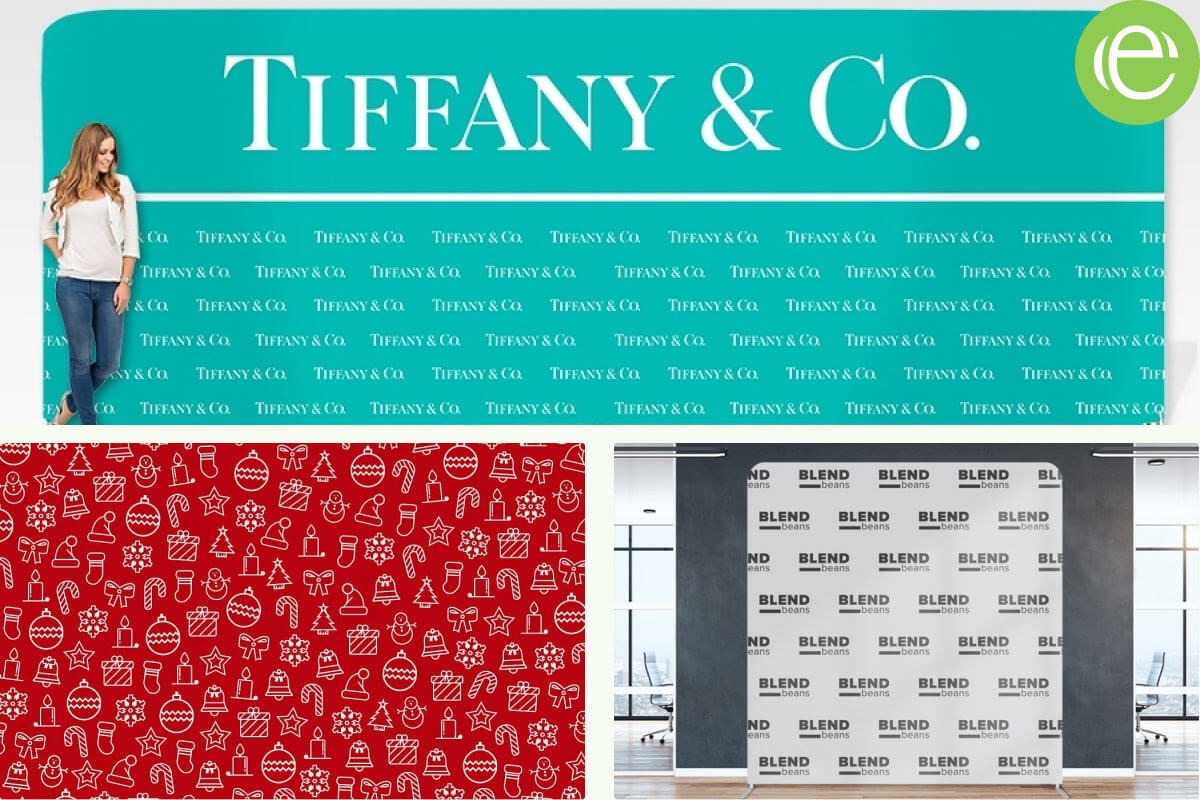 Are you in the midst of planning an unforgettable event, but can't figure out how to give it that something "extra?"
Are you tired of seeing all the same ideas on the internet and social media and are ready to do something different?
Then a Step and Repeat Banner may be exactly what you're looking for!
Key Takeaway
Step and Repeat banners aren't mere decorations – they're a strategic branding tool.
A Step and Repeat banner will create an interactive experience at your special event, as they're not just backdrops but conversation starters as well.
In our digital age, events live beyond their physical venues, thanks to the internet and social media…and it's important you know how to use that to your event's advantage.
As you delve into the details of organizing a standout gathering, one element should be at the forefront of your preparations: a step and repeat banner.
Let's find out why.
Why a Step and Repeat Banner?
In the ever-evolving and always-changing world of event planning, the devil is in the details, as they say.
One detail that may make your next event really stand out is the use of a Step and Repeat banner.
No Longer Just for Red Carpets and Fashion Shows
Gone are the days when Step and Repeat Banners were exclusive to star-studded affairs and haute couture events.
The concept of the "step and repeat banner" originated in the heart of celebrity culture, becoming a staple at high-profile events such as film premieres, award shows, and exclusive after-parties where everyone wanted to make sure they were seen and photographed well.
The idea was simple yet ingenious: create a backdrop filled with sponsor logos and position it in such a way that these logos are visible no matter where the photograph is taken.
By creating a repeat backdrop like this, every event sponsor was guaranteed visibility in every photo taken, while every attendee was able to control the photos taken of them by strategically positioning themselves against the well-designed and aesthetically pleasing Step and Repeat backdrop.
The bottom line?
From sponsors to guests, everyone was ensured a mutually beneficial interaction.
Today, the use of Step and Repeat Banners has transcended the glitz and glam of Hollywood and New York fashion shows.
Charities have begun to use repeat backdrops as a way to highlight donors.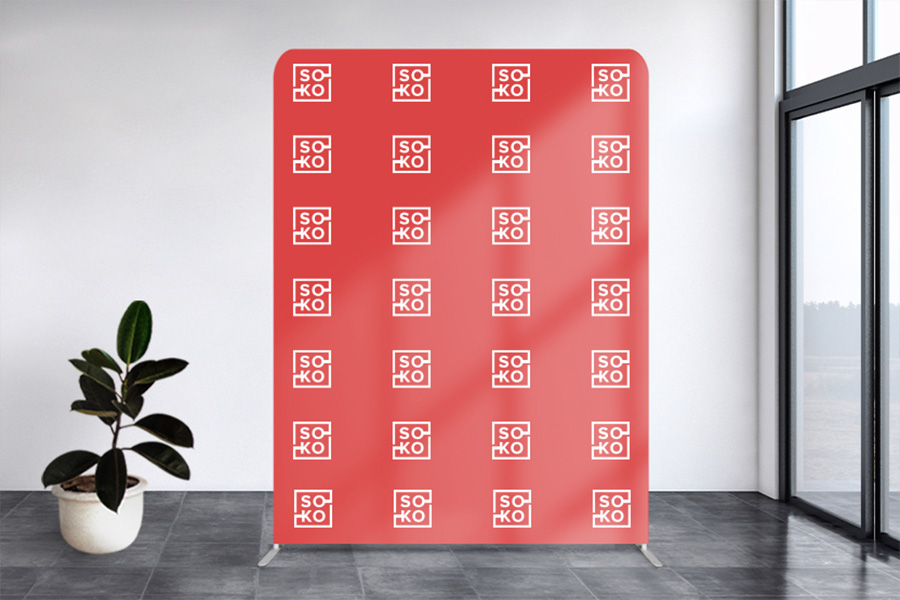 Sports teams use them to help feature sponsors and new players when they're signed.
Companies of all sizes and shapes now use Step and Repeat Banners to promote their brands at all sorts of various events.
And the fastest growing trend of all?
Everyday people like you and me are now designing Step and Repeat Banners to have a way to make their own special events feel like they've got a touch of the red carpet influence.
For a nominal cost, someone's backyard birthday party or low-key baby shower can suddenly feel much more glamorous than ever before, while also giving the hosts and their guests a way to memorialize the event with unique graphics and wording on their own custom Step and Repeat Banner.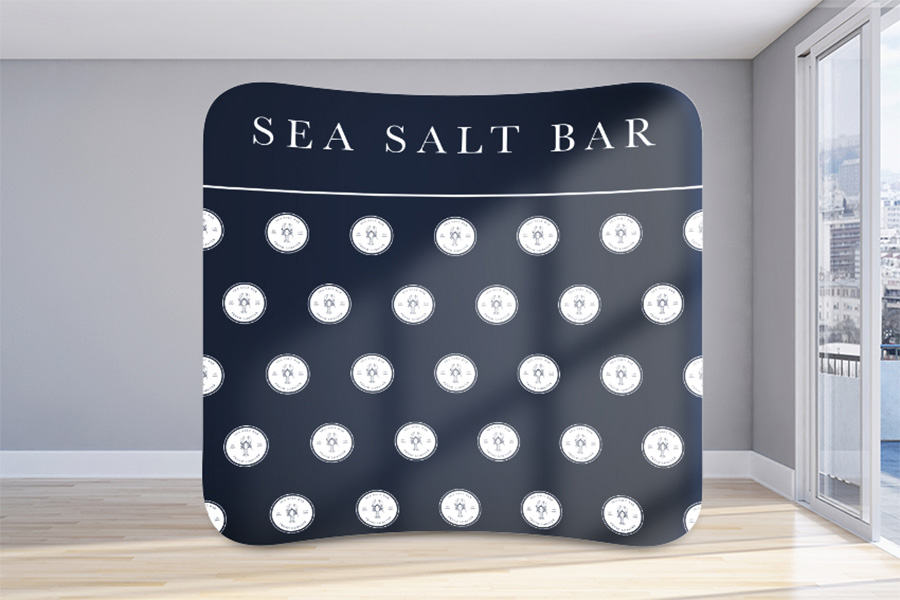 What Types of Events are Best for a Step and Repeat Banner?
There is no doubt that a Step and Repeat backdrop has found its way into a number of new events. These versatile, inexpensive, and highly creative backdrops can be used in many different ways, at many different events.
Here are a few ideas to get you started:
Corporate Events: Whether it's a conference, trade show, or annual meeting, step and repeat banners create a professional backdrop that highlights the company's presence, sponsors, or collaborators and is excellent for networking photos, interviews, or just adding a corporate touch.
Charity Functions: For events like charity galas or fundraisers, these banners can showcase the logos of different sponsors who contributed to the event, providing them with visibility and acknowledging their support, while also offering a ceremonial backdrop for photographs of guests in their formal attire.
Weddings and Private Parties: More personal events can also benefit from step and repeat banners by having customized backdrops that reflect the themes, names, or monograms related to the occasion, adding an upscale and personal element to guest photographs.
Product Launches: When a new product is introduced, having a backdrop with the product name, logo, or related branding solidifies the association between the event and the product, making it memorable in photos that circulate in press releases, social media, and promotional materials.
Film Festivals and Award Ceremonies: These typically star-studded events use step and repeat banners for red carpet entrances, providing photo ops that simultaneously publicize the event's name and sponsors, and giving the media clean, branded photos for publications.
Sports Events and Tournaments: From local tournaments to large-scale sports events, these banners can display team logos, sponsor brands, and event specifics, serving as a meeting spot for team photos, interviews, or fan interactions.
Birthday Parties: For milestone birthdays like a Sweet 16 or a 50th celebration, a step and repeat banner with thematic elements and the celebrant's name adds a fun, personal touch. It encourages guests to take photos that they will cherish, remembering the special day.
Graduation Ceremonies: A banner displaying the educational institution's logo, the year, and perhaps some celebratory graphics can mark this significant achievement in students' lives. It provides an excellent backdrop for photos with family and fellow graduates.
Themed Costume Parties: Whether it's Halloween or just a themed party, having a step and repeat banner that matches the theme can set the tone right from the entrance. Guests can pose in their costumes, making the photographs a hilarious and memorable part of the event.
Book Launches or Signings: For authors introducing their new work, a backdrop with the book cover, author's name, and associated imagery is perfect for promotional photos, especially during signings or readings.
Art Exhibits or Gallery Openings: These banners can include the artist's name, artwork, gallery logo, or exhibit title, offering a branded background for photographs of the attendees, and perhaps the artists themselves, amidst the buzz of the opening.
Holiday Parties and Events: For annual festivities like Christmas parties, Hanukkah gatherings, or New Year's Eve celebrations, a themed step and repeat banner adds to the spirit of the holiday. It encourages guests to capture moments of celebration and joy during the event.
Creating a special event Step and Repeat banner will not only enhance the overall ambiance of your special day or evening, but will also provide an interactive experience for all of your attendees.
Repeat backdrops are a great way to encourage social sharing, create memorable keepsakes, and make sure that no one forgets how special your event turned out to be.
What are the Components of a Step and Repeat Banner?
Step and Repeat Banners may look intimidating when they are behind the stars on a red carpet event, being used as a press wall or to promote top-name brands, but they are much more simple and cost-effective than you might realize.
That said, you'll want to make sure you use a reputable company like Easy Signs for the designing and manufacturing of your end product, if you want to achieve the best results.
Here are the critical components that go into creating an effective Step and Repeat Banner that you'll want to pay attention to:
The Creative Piece: The Banner Design
Graphics and Logos: The design process begins with selecting the appropriate logos, graphics, or texts that you want repeated across the banner. These elements are usually event-specific and are often logos of sponsors, the date of the event, or symbolic graphics related to the occasion. They must be high-resolution images to avoid any distortion or pixelation.
Layout: The arrangement of these graphics is crucial. They need to be spaced and sized correctly, ensuring visibility in various photo frames, whether attendees are standing close or far from the banner. Designers often use professional software like Adobe Illustrator or Photoshop to create a balanced and appealing pattern.
The Backdrop Behind the Backdrop: The Banner Materials
Fabric Quality: The material selected for the banner contributes significantly to its overall look and performance. Options like a fabric, canvas, or vinyl banner are popular. And while vinyl is durable and offers a smooth finish, fabric avoids glare from photos, and canvas can give a premium feel.
Print Quality: It's essential to use high-quality printing services to maintain the integrity of the colors and images on the banner. The goal is to prevent fading or blurring, ensuring the backdrop looks professional and clear in photographs.
Holding it All Up: The Banner Stand
Type and Size: The banner stand must be sturdy and reliable, holding the banner taut and preventing it from wrinkling or falling over. Retractable stands and telescopic poles are common types, each offering different levels of stability, mobility, and ease of setup.
Assembly: A good stand is designed for quick assembly. It should easily attach to the banner and be set up by one or two people with easy-to-find pole pockets and without requiring specialized tools or excessive force. The ease of assembly becomes particularly important for events with quick turnaround times.
All the Extras: Additional Accessories to Consider
Lighting: Proper lighting can enhance the visibility of the content on the banner, ensuring it's seen in high-quality in photographs, regardless of the venue's lighting conditions. Illumination options can include specialized banner stand lights, spotlights, or even studio lighting for larger events.
Carrying Case: For events at different venues or for banners used multiple times, a durable carrying case is beneficial. It facilitates the transportation and protection of both the banner and stand, preventing damage and extending the setup's lifespan.
Each component plays a pivotal role in the effectiveness of a step and repeat banner.
From the initial design phase to the actual setup at the event, ensuring each element is carefully addressed results in a professional, high-quality, and engaging backdrop that meets its purpose of branding, aesthetics, and guest interaction.
When You're Ready to Create Your Special Event Repeat Backdrop, Turn to Easy Signs for Help
Though you have plenty of choices in the world of Step and Repeat backdrops, there is one company that stands out for their great customer service, quick turnaround time, and belief in only producing the highest quality products possible.
That company? Easy Signs.
Located in Allentown, PA our company manufactures a large range of digitally printed signage using the latest technology including large format HP dye sublimation printers and Latex printers.
We continually invest in the latest state of the art machinery to ensure that we supply consistent, high-quality products to the US market at the lowest cost.
Not only that, but our happiness team of customer service experts knows how to deliver great service no matter how big or small your order may be.
From yard signs to a Step and Repeat backdrop, Easy Signs wants to be your favorite online spot for anything you may need to make your next special event shine. Let's get started today!