Putting together a memorable event for a group of clients or guests is one thing…
Putting together a memorable event that leaves them speechless and never forgetting your name or brand is another.
If you want to make sure that your next event is the talk of the town, start with the one item that will bring fun and name recognition to every occasion…quickly and cost-effectively…
The Step and Repeat Background Banner.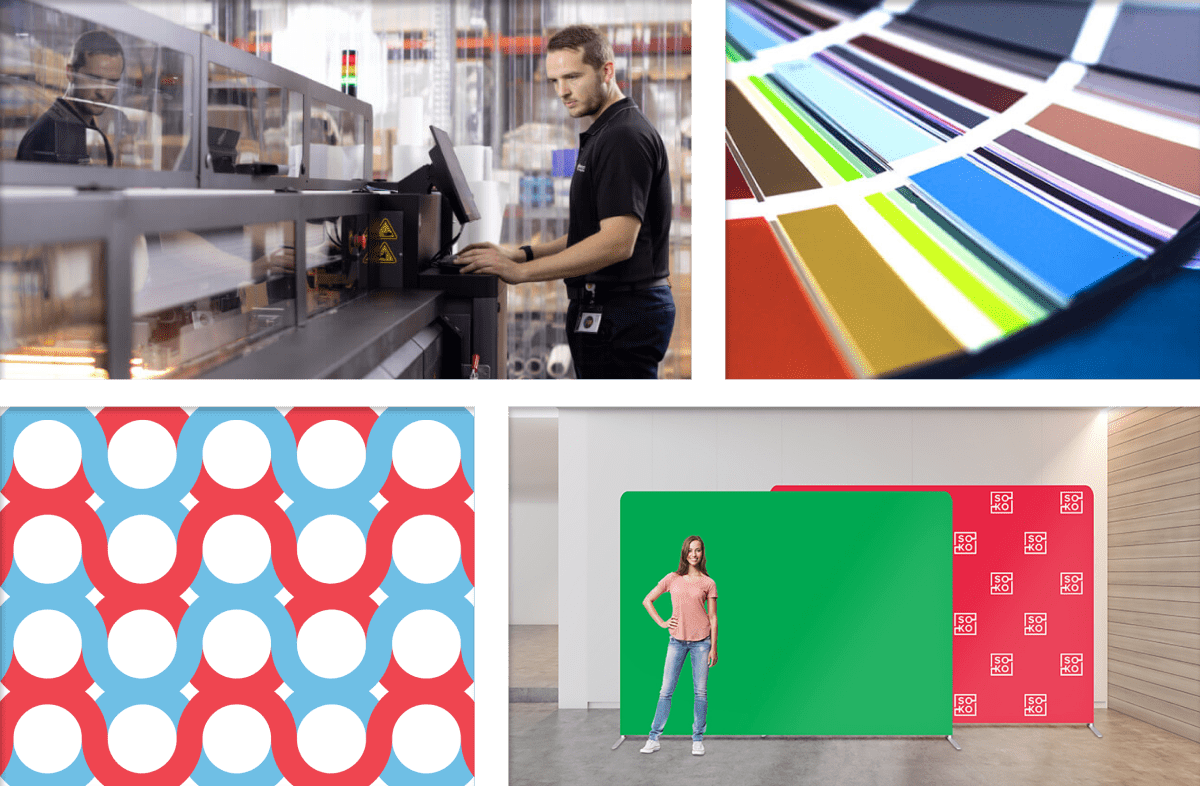 Key Takeaway
Though Step and Repeat Banners have long been a staple of red carpet award shows and fashion events, they are quickly becoming just as popular for other types of more mainstream events.
Whether you hope to attract more interest in your brand or just provide a photo booth for guests, a Step and Repeat Banner will end up doing both.
Because Step and Repeat Banners have exploded in popularity, you'll want to make sure you do your homework before ordering one.
What is a Step and Repeat Background Banner?
A Step and Repeat Background Banner, often simply referred to as a Step and Repeat Banner, is a backdrop predominantly used during events, where logos, brand names, or other emblematic symbols are displayed in a repeated pattern.
Its main function is to offer consistent branding and a professional look for photography and videography taken at events.
But where did these backdrops (or banners) get that name?
"Step" refers to an individual or a group of individuals "stepping" in front of the banner to have their photographs taken.
"Repeat" indicates the subsequent movement of the next person or group into position for a similar purpose.
This systematic process ensures that the brand or logos on the banner get repeatedly showcased in a multitude of photographs.
The repeating pattern is not just a stylistic choice but also serves a crucial branding purpose.
The continuous showcasing of a logo or symbol on a repeat banner ensures that the brand remains at the forefront of every photograph or video taken, no matter what position the individuals are in.
This "Step and Repeat" strategy is particularly impactful for branding, as the repetition reinforces brand identity, leading to better recall and recognition.
Not only that, but from a photography perspective, the repetitive pattern provides a cohesive and clutter-free backdrop, making it much easier to focus the lens on the subjects at hand and ensure that they stand out while the brand subtly (yet effectively) makes its presence felt in the background of every snapped photo.
A Step and Repeat Background Banner is way more than just a decorative piece…it's a strategic tool designed to amplify brand visibility and enhance the visual quality of all your event photographs.
Your Ultimate Guide To
Step And Repeat

Banners

Step into the spotlight with our Ultimate Guide to Step and Repeat Banners! Your picture-perfect backdrop awaits.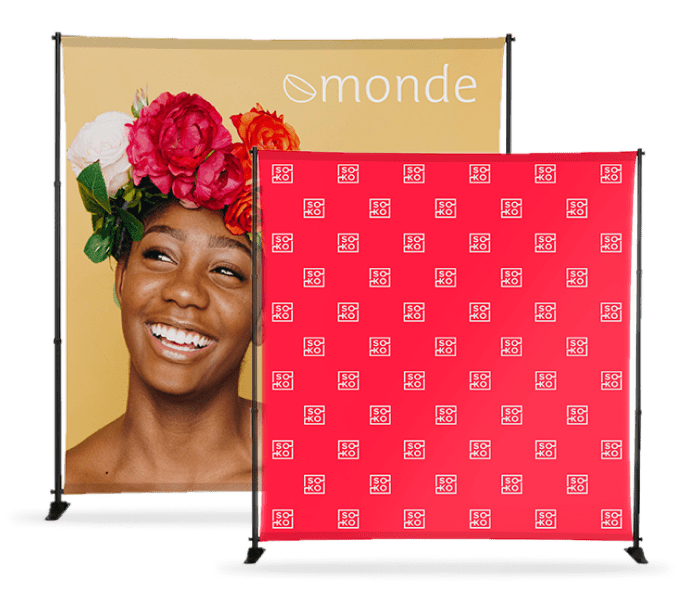 Where Can I Use a Step and Repeat Background Banner?
Once reserved for high-brow events like red carpet galas, award shows, and fashion events, Step and Repeat Background Banners have rapidly grown in popularity for all sorts of other special occasions.
With their elegant design and branding capabilities, Step and Repeat Banners have easily integrated into being a "must have" at everything from corporate events to fundraisers.
Their versatility ensures that, regardless of the occasion, they always add a touch of professionalism and brand consistency. Not to mention fun!
Here are some of the most popular ways that Step and Repeat Banners are currently being used:
Red Carpet Events: These banners are practically synonymous with red carpet occasions. Whether it's a movie premiere, award ceremony, or a celebrity gala, Step and Repeat Banners provide a backdrop that oozes glamor and prestige. As celebrities and guests stop to pose in front of these banners, they guarantee high-profile exposure for the brands or events they represent.
Corporate Functions: In the corporate world, branding is paramount. Whether it's an annual general meeting, a corporate retreat, or a networking soiree, these banners solidify a company's presence, ensuring the brand remains at the forefront of every snapshot and interaction.
Product Launches: Introducing a new product to the market is a significant occasion. Having a Step and Repeat Background Banner ensures that the new product, along with the brand, remains the focal point throughout the event, reinforcing its significance and capturing the attention of attendees and the media.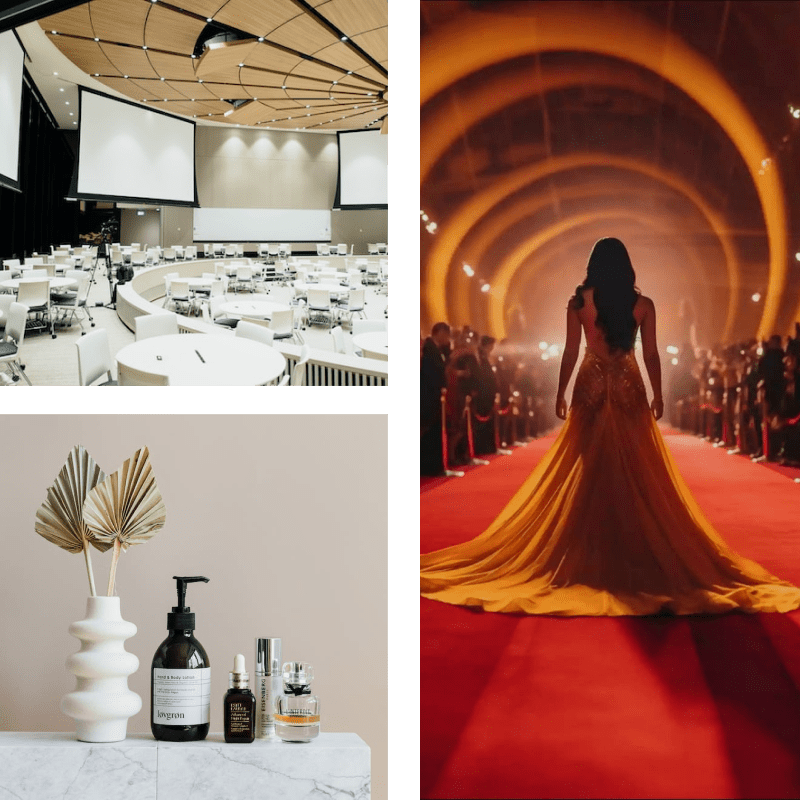 While the above events have been notorious for using Step and Repeat Banners for many years, here are some of the less common (but quickly growing in popularity!) ways people are finding to use them now:
Private Parties: While traditionally associated with larger events, these banners have found a place in private gatherings too. Be it milestone birthdays, anniversaries, or engagement parties, a customized Step and Repeat Banner can add a personal and lavish touch, making attendees feel special and the event memorable.
Charity Fundraisers: For events focused on philanthropy, these banners can spotlight the cause or the organization, emphasizing the event's primary objective and potentially encouraging more donations.
Local Community Events: From local fairs to school functions, community leaders and organizers have begun using these banners to promote a sense of unity, pride, and identity, ensuring local brands, schools, or community messages are prominently displayed.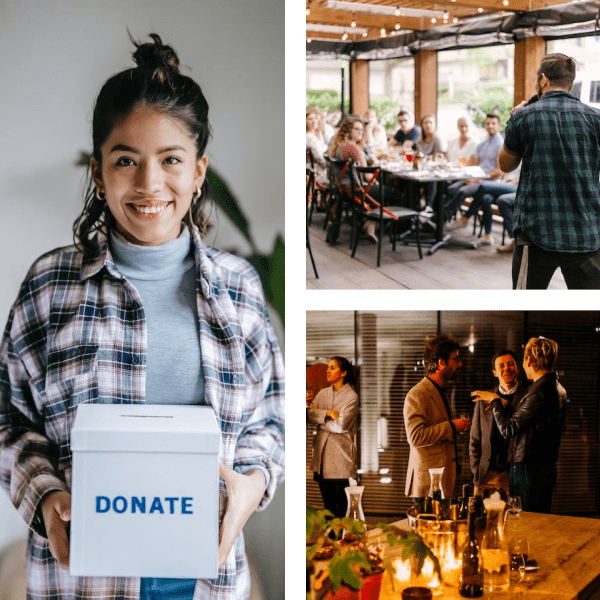 Whether it's a star-studded gala or a community gathering, Step and Repeat Banners do an amazing job of seamlessly fitting in which not only enhances a brand's presence but can also quickly enrich the event attendees' overall experience.
How are Step and Repeat Banners Made?
The process of crafting a Step and Repeat Banner is a blend of meticulous design, material selection, and customization.
This multi-step procedure ensures that the final product not only resonates with the brand's identity but also stands the test of time.
First: The Design Process
The journey from an idea to a tangible banner begins with you.
From understanding your brand's message, your event, and the desired visual impact, you will need to design a Step and Repeat Banner that effortlessly bridges the gap between brand identity and your event's ambiance, ensuring a cohesive and memorable experience for all attendees.
Using an online design tool and banner templates can help create the banner style you desire. After your design is ready, it moves to the printing phase.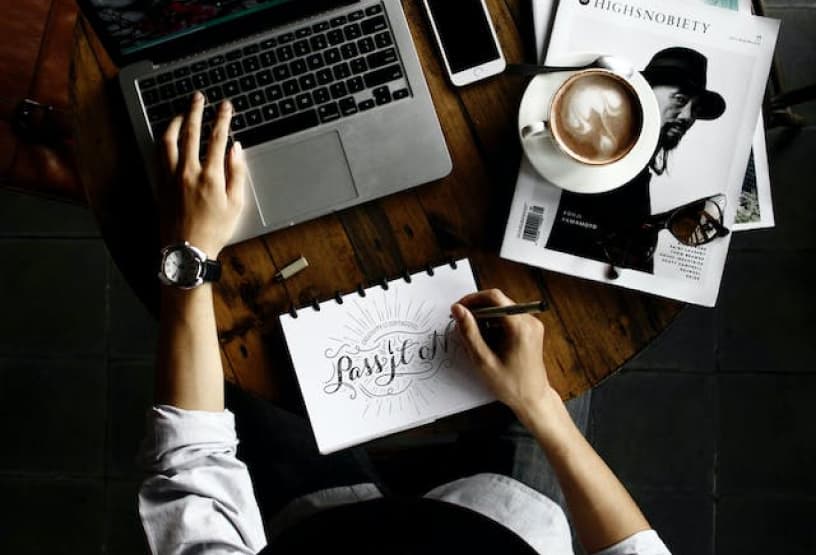 Second: Choosing the Right Materials
Selecting the right materials is paramount for the banner's durability and appearance.

Most Step and Repeats are either vinyl, polyester, or fabric banners.

When choosing a banner material, make sure to go with one that is easy to clean, hard to wrinkle, and has a vibrant print output that will pop when used as a photo backdrop.
Third: Customization Options
Being able to customize repeat backdrops is what makes each one an excellent choice for special events and marketing plans. Here are some of the best ways to make a repeat banner your own.
Logo Placement: Depending on the brand's preference and design aesthetics, logos can be evenly spaced, staggered, or arranged in unique patterns to maximize visibility.
Color Schemes: Brands can opt for colors that align with their identity or choose contrasting hues to make the banner pop.
Banner Sizes: The dimensions of the banner are determined by the event's scale and the available space. From compact banners for small gatherings to expansive ones for grand events, there's a size for every occasion.
The creation of a Step and Repeat Banner is a detailed endeavor that merges creativity with technical prowess.
Every choice, from design to material, will result in a banner that speaks volumes about your brand and brings a level of class and customization to your event.
How Do I Set Up a Step and Repeat Banner?
One reason why party planners, publicists, and even coordinators like using Step and Repeat Banners so much is not only because they are great for promoting brand logos and photo ops but also because the ease with which they can be installed is pretty impressive.
Here's a Repeat Banners step-by-step guide that will show you how seamless setting up a Step and Repeat can really be:
1. Unroll and Allow the Banner to Flatten
Before diving into the actual setup, preparation with a repeat backdrop is key.

Upon receiving your banner, especially if it's shipped rolled up, you should unroll it and lay it flat. This helps eliminate any creases or wrinkles that might have formed during transportation.

(Placing some light weights on the corners can expedite this process. Ensure the surface you lay it on is clean to avoid any potential damage or stains.)
2. Use Vertical Poles, Horizontal Poles, and Stands to Mount the Banner
There are a few different mounting options available for Step and Repeat Banners:
Vertical Poles: These are typically telescopic poles that can be adjusted to fit the banner's width and height. The banner will usually have pole pockets or grommets to facilitate this.
Banner Stands: A Step and Repeat Banner stand is a freestanding structure onto which the banner is attached. These are usually an adjustable stand and are designed to provide stability and support, ensuring that the banner remains taut and prominently displayed.

One common method of attaching the banner to the stand is through "pole pockets." A pole pocket is a reinforced channel in the top and bottom edges of the banner, allowing poles from the stand to slide through effortlessly.

This ensures a smooth, wrinkle-free display while also making assembly and disassembly quick and straightforward.
Tips for Ensuring a Taut and Smooth Step and Repeat Banner Display
A well-displayed banner is one that's smooth and free from wrinkles or sagging.

Here are some additional tips to make this possible:
Ensure all mounting equipment is in good condition and appropriately sized for your banner.
When using poles or stands, start by attaching the corners first, then move to the sides, ensuring even tension throughout.
If your banner has grommets, use bungee cords or zip ties to ensure a tight fit.
Note: While some manufacturers suggest that Step and Repeat Banners can be used for either indoor and outdoor use, at Easy Signs we don't recommend it.

Often, outdoor weather conditions can be challenging for a custom Step and Repeat Banner and there is a risk of damaging either the banner itself or the banner stand.

If you do decide to use your Step and Repeat Banner outdoors, it is highly recommended that you use weighted bases for securing the Step and Repeat Banner stand and consider covering it in a weather-resistant material if weather conditions are less than ideal.
Your Ultimate Guide To
Step And Repeat

Banners

Strike a pose with our Step and Repeat Banner guide!
Elevate your event photography game.
What Should I Look For When Ordering a Step and Repeat Banner Online?
In today's digital age, ordering products online has become the norm.
However, the vast array of online product choices can be overwhelming, particularly in the quickly growing world of Step and Repeat Banners.
If choosing an online manufacturer for your Step and Repeat banner seems daunting, don't worry. There are some simple steps you can follow to make sure you end up with the exact product you're hoping for, from a company that stands behind its products.
Before making a purchase, it's essential to assess the credibility of the vendor:
✓

Read Reviews: Look for customer reviews on both the vendor's website and third-party platforms. Reviews can provide insights into the quality of the product and the overall customer experience.

✓

Look at Past Work: Reputable vendors often showcase their previous projects or offer a portfolio. This gives potential customers an idea of their work quality and versatility.

✓

Check Their Credibility: Check if the vendor has any industry certifications, awards, or affiliations that bolster their reputation.

✓

Look for an Excellent Online Design Tool: Make sure the company you are looking at has an easy-to-use and state-of-the-art online design tool for all your customization needs.

✓

Ensure They Have Great Customer Service: Only work with manufacturers that are willing to help you navigate their online design tool and design templates as well as answer any questions you may have regarding layouts, color schemes, and text. You also want to make sure you understand their policy for allowing you to preview the final design before placing your order.

✓

Check Their Delivery Date and Shipment Protocol: When ordering products online, especially time-sensitive items like Step and Repeat Banners for events, understanding the vendor's delivery and shipment procedures is paramount. Always inquire about the expected delivery date, ensuring it aligns with your event's timeline.
When You're Ready to Order, Easy Signs is Ready to Help!
If you've decided that a Step and Repeat Banner is the next event item on your list, then congratulations! You are about to join thousands of others who have found out how much fun and educational a Step and Repeat Banner can be.
No longer just for the stars, a Step and Repeat Banner can provide hours of entertainment and education for your event attendees and party guests while also giving your brand or business the positive exposure you're looking for.
Are you ready to get started? Reach out to our customer happiness team today to help you design the perfect Step and Repeat Banner for you. Let's take your next event to another level!