In today's ever-changing and highly competitive business world, knowing how to stand out from the crowd is crucial.

The marketplace is inundated with companies vying for everyone's attention, making it challenging to leave a lasting impression on potential customers and clients.

This is where the art of good visual branding can be your newest and most powerful tool.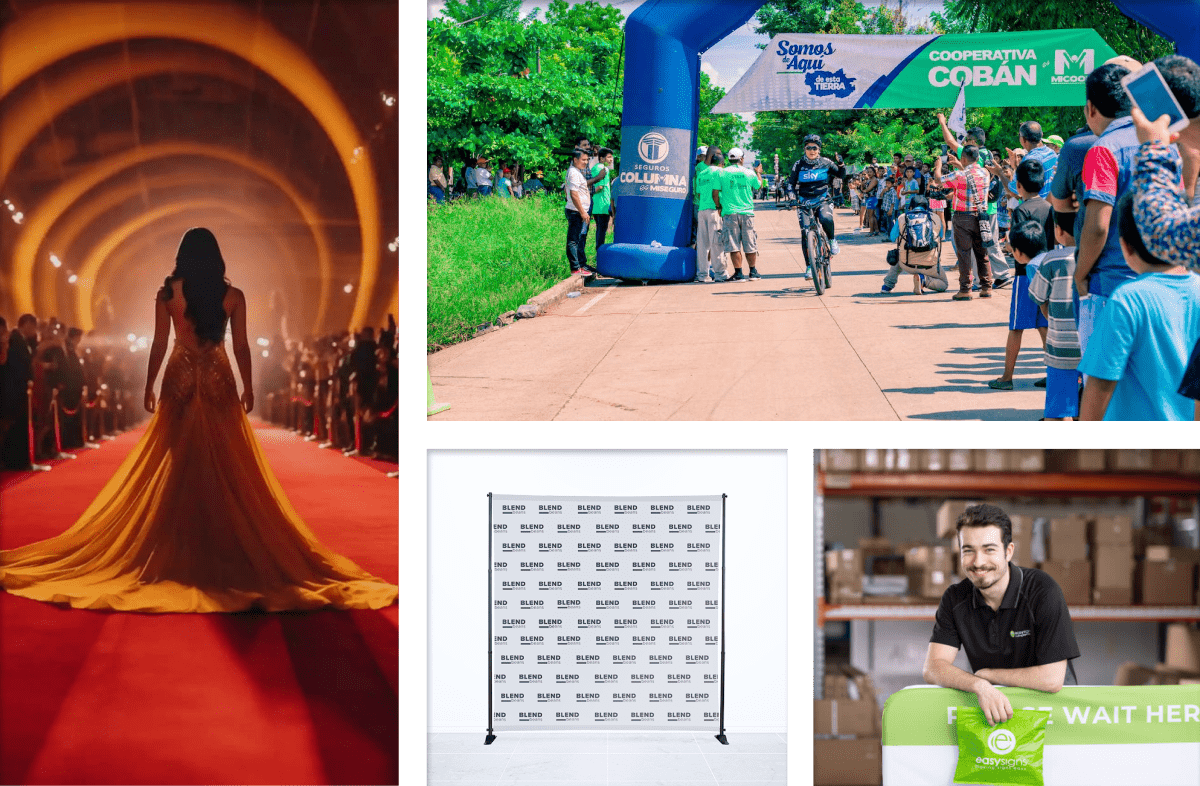 Key Takeaway
Step and Repeat Backdrops offer a powerful means to promote and reinforce brand identity, ensuring logos and brand messages are prominently displayed and consistently captured in event photographs and videos.
These backdrops elevate the overall aesthetics of an event, providing a polished and professional environment.
Suitable for a range of events, from red carpet galas to corporate conferences, Step and Repeat Backdrops can be tailored to fit various themes and settings.
Investing in a Step and Repeat Backdrop can be one of the best visual branding tools in your marketing toolbox. With their creative designs and attention-grabbing graphics, the right Step and Repeat Banner can take your next event from pretty interesting to completely unforgettable.
The Backstory of the Step and Repeat Backdrop
A Step and Repeat Backdrop (also known as a Step and Repeat Banner) is a backdrop display that features repeated logos, brand names, or symbols, used primarily at various types of events to promote and increase brand visibility.
The name "Step and Repeat" comes from the process where individuals "step" in front of the backdrop to have their photographs taken and then "repeat" the process as they move along, making way for the next individual or group.
Backdrop banners are particularly popular at red-carpet events, press releases, and corporate functions, ensuring that any company or brand that is sponsoring the event gains maximum exposure in all photographs and videos.

The repetitive pattern not only offers a visually appealing and professional backdrop for photography but also serves to reinforce the company or brand identity through continuous exposure.
Moving into the Limelight: Step and Repeat Banners Today
Today, Step and Repeat Banners are no longer just for the rich and famous or the world's largest and best-known brands.
These popular banners now seem to be everywhere, finding their way into a wide variety of events of all shapes and sizes.
From local community gatherings and school functions to startup product launches and small business conferences, these banners have proven to be a cost-effective and fun way to promote just about any company, product, or special occasion…and give spectators and party-goers an entertaining way to be informed!
There are several reasons why Step and Repeat Banners have become so widely successful:
Branding Consistency:

These banners provide a repetitive and consistent display of logos or symbols, ensuring that a brand's identity remains at the forefront of every photograph or video taken against the backdrop. This repetition reinforces brand recall and recognition.
Professional Appearance:

They elevate the ambiance of events, offering a polished and professional look. This uplifted aesthetic can significantly enhance the perceived value and grandeur of an occasion.
Social Media Amplification:

In the age of social media, photos taken against these banners often get shared widely. This extends the brand's reach, making the event's impact resonate far beyond the immediate attendees.
Cost-effective Marketing:

Compared to other advertising methods, Step and Repeat Banners offer a relatively cost-effective way to gain significant brand exposure, especially considering their reusable nature for multiple events.
Versatility:

These banners are adaptable to various events, from high-profile galas to local community gatherings. This flexibility ensures they remain relevant across different scenarios.
Engagement Boost:

The backdrop often becomes a focal point for attendees, encouraging interactions, photographs, and conversations, thereby fostering engagement and creating memorable moments.
Step and Repeat Banners today symbolize more than just brand promotion; they represent inclusivity, offering every brand, regardless of its size or stature, the chance to shine in the limelight.

Their widespread use underscores a modern era where branding is interwoven with experiences, making every event an opportunity for memorable connections.
Behind the Scenes: What Goes Into Designing a Step and Repeat Backdrop?
Designing a Step and Repeat Backdrop is a meticulous process that is a merging of creativity and precision.

This process isn't just about placing logos on a polyester or vinyl banner…it's about ensuring that the design effectively communicates a brand's message while also fitting seamlessly into an event's ambiance and grabbing the attention of everyone that passes by it.
Your Ultimate Guide To
Step And Repeat

Banners

Strike a pose with our Step and Repeat Banner guide!
Elevate your event photography game.
How Do I Know if a Step and Repeat Backdrop is Right for Me?
Trying to decide if having one of your own personalized banners is a good investment for your business or next special event can be a tough decision.
No matter what your budget, you may be at odds as to whether or not the purchase is going to be worthwhile and justifiable.
Below is a list of some questions to ask yourself that should help make your decision easier.
What is the main purpose of my event?

Answer: If your event aims to promote a brand, product, or cause, a Step and Repeat Backdrop can offer the visibility and recognition you desire. It's especially useful for events where photography and social media sharing are anticipated.
Do I have a logo or branding that I want to emphasize?

Answer: If you have a logo or specific branding elements, think of a Step and Repeat banner as an empty canvas. These banners can spotlight and reinforce your company, ensuring your brand is prominently displayed throughout the event.
Is photography a major component of my event?

Answer: If you anticipate a lot of photographs being taken, the backdrop provides a professional and branded setting for all images.
Am I looking for a cost-effective branding solution?

Answer: Given their reusable nature, these banners are a cost-effective solution for multiple events, providing continuous brand exposure over time.
Will my event be indoors or outdoors?

Answer: Step and Repeats are versatile and can be used in both settings, though we don't recommend using the repeat banners outdoors unless you have a way to secure your banner stand in case of bad weather, such as high winds, heavy rain, or other types of inclement conditions that could damage the banner or cause harm to your guests.
Do I have the space and setup capabilities for such a backdrop?

Answer: While these banners come in various sizes, it's important to ensure you have adequate space for setup and display. Consider your venue size and layout.
Am I aiming for a memorable or shareable event experience?

Answer: If you want attendees to remember and share their experiences online, a visually appealing backdrop can enhance this, making moments more shareable.
Putting it to Use: A Repeat Banners Step-by-Step Guide
Setting up a Step and Repeat Banner is as easy as ordering it, as long as you are familiar with the parts and how to go about it.
1. Set Up the Step and Repeat Banner Stand
A versatile adjustable stand is paramount for your display, no matter what type of event you'll be using it at.

A good Step and Repeat adjustable stand will allow you to adapt the height and width of the banner display as per the venue's requirements, ensuring optimal visibility and impact.
1. Set Up the Step and Repeat Banner Stand
A versatile adjustable stand is paramount for your display, no matter what type of event you'll be using it at.

A good Step and Repeat adjustable stand will allow you to adapt the height and width of the banner display as per the venue's requirements, ensuring optimal visibility and impact.
2. Secure Mounting with Pocket Sleeve and Pole Pockets
One of the key features of many Step and Repeat Banners is the pocket sleeve. This is essentially a reinforced channel or sleeve, typically located at the top and sometimes the bottom of the banner, allowing for easy mounting and securing at both the ends of your banner.

Pole pockets are similar features that facilitate secure attachment to the stand. These design elements ensure that your polyester or vinyl banner stretches out smoothly, providing a clean and professional look.
3. Opt for a Lightweight Aluminium Frame
While durability and sturdiness are essential, nobody wants to lug around a heavy frame.

Make sure that the custom banner you order comes with a lightweight aluminium frame as it is the perfect choice for strength and ease-of-use.
Making the most of your Step and Repeat Banner isn't just about its design.

How you set it up – from the type of repeat banner stand you use to the type of frame you choose will all play crucial roles in ensuring your banner commands attention and serves its purpose effectively.
Easy Signs – The Easy Way to Order Your Step and Repeat Banner Today
Are you ready to make your next event the most memorable one yet? Then reach out to Easy Signs to help make it happen!

Our modern factory is located in Allentown, PA where we manufacture a large range of digitally printed signage, including Step and Repeat Banners.
Easy Signs continually invests in the latest state-of-the-art machinery to ensure that we can supply consistent, high-quality products to our entire US market at the lowest cost possible.
With an Easy Signs Step and Repeat Banner, your next event will be one no one is ever going to forget!
Your Ultimate Guide To
Step And Repeat

Banners

Step into the spotlight with our Ultimate Guide to Step and Repeat Banners! Your picture-perfect backdrop awaits.