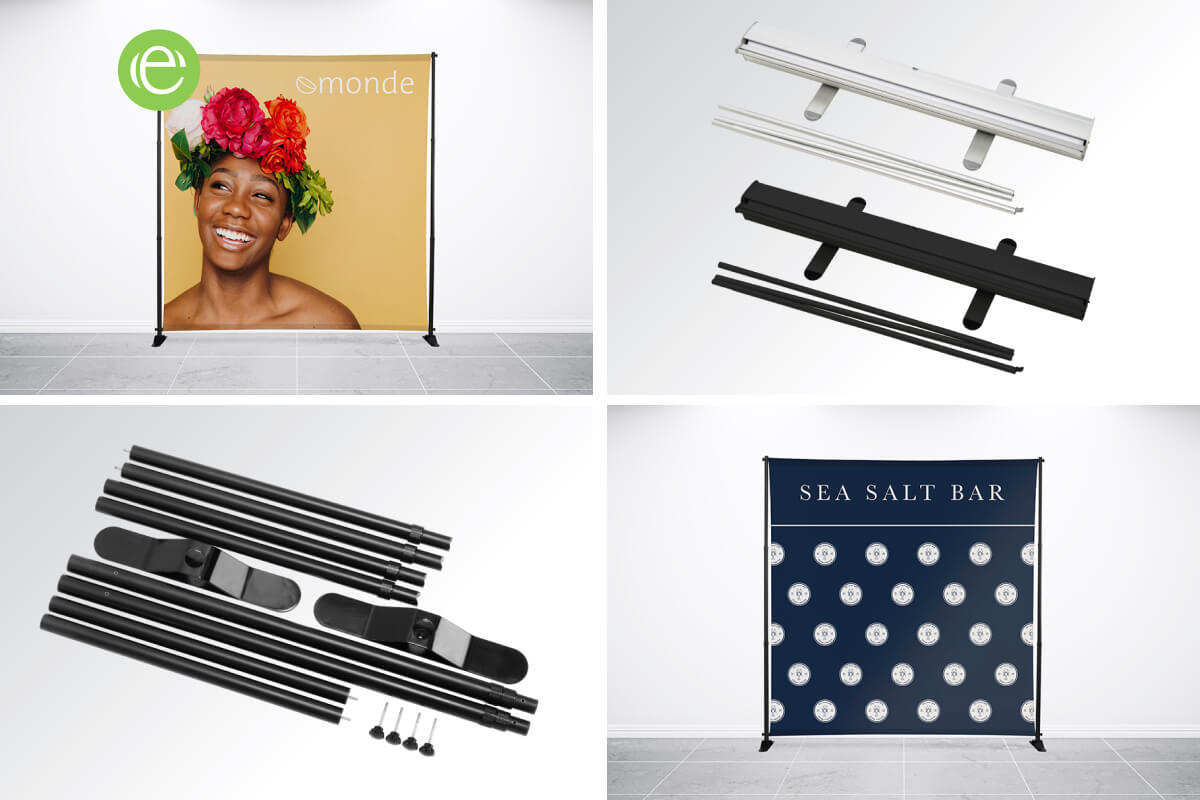 You've researched online Step and Repeat Banner companies and found the one you like.
You've designed the perfect backdrop banner for your upcoming event, and love the way it turned out.
But there's one piece that you are still not completely comfortable with…
What about the banner stand? How do you know if it will enhance or detract from your new Step and Repeat Banner?
Key Takeaway
Step and Repeat Banner are no longer just for red carpet and high fashion events. More regular folks than ever before are using these super cool marketing tools for all sorts of special occasions.
While designing a Step and Repeat Banner has a whole list of Dos and Don'ts to consider, thinking about the stand on which it's going to be displayed is also an important thing to think about before you place your order.
From the materials to the setup, a Step and Repeat Banner stand can make a big difference in your backdrop banners' overall look and success.
Even though a Step and Repeat backdrop banner stand is not the most crucial aspect of your special event's success, certain aspects of your stand will go a long way in enhancing the overall experience and impact of your event.
What is a Step and Repeat Banner Stand?
If you are in the market for or have already purchased a Step and Repeat backdrop banner, you are probably curious as to how the repeat banner is going to get displayed.
This is where the Step and Repeat Banner stand comes into play.
A Step and Repeat Banner stand is a fundamental component of the repeat banners overall setup that allows the banner to be displayed appropriately.
Let's look at some of the factors that go into a Step and Repeat stand and why each one is important for your banner's long-term success and its overall goal…to make your event memorable.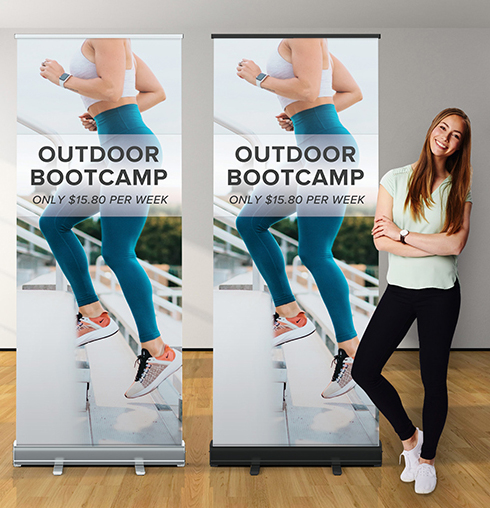 The Supportive Framework of a Repeat Stand:

The most functional and supportive banner stands consist of a durable framework, often made of aluminum or another lightweight material, which provides the necessary support to hold up the banner.

These types of repeat backdrop stands are designed to keep the banner stretched out for a clear display of the logos, images, or messages with no buckling, wrinkles, or gaps anywhere in the design.

The Adjustability of a Repeat Stand:

Banner stands should be adjustable and allow for different banner sizes to be used interchangeably.

This feature is crucial for accommodating various graphic designs and different types of event spaces, making the banner stand a versatile resource for multiple occasions and/or changing needs.

The Portability of a Repeat Stand:

Step and repeat banner stands are designed for ease of transport.

They're lightweight and often come with carrying cases. This portability is essential for event planners who need a quick setup and breakdown at different venues.

The Easy Assembly of a Repeat Stand:

Good stands are engineered for fast assembly and disassembly without requiring extensive technical knowledge or tools. With things like well-placed pole pockets, intuitive locking mechanisms, and clear instructional guides, a good banner stand should be user-friendly, even for novices.

The ease of use that a backdrop banner stand provides will ensure a stress-free setup process, while also saving time and effort for event organizers.

It's also important to mention that the simplicity of the banner stand design should never compromise the stand's robustness.

From trade shows to red-carpet events, a strong background banner stand will contribute to the professional appearance of the overall presentation.

The Stability and Durability of a Repeat Stand:

The highest quality stands are heavy-duty and stable enough to withstand busy environments and minor bumps, making sure that the banner stays in place throughout any event you display it at.

They are constructed with robust materials for long-term use, making them a reliable investment for frequent event planners and to support repeat backdrops at all sorts of different events.
How Do I Set Up My Step and Repeat Backdrop Stand?
Setting up a step and repeat banner stand can be a straightforward process, but it involves specific steps to ensure that the banner is displayed properly and securely.
Here's a step-by-step guide on how to set up your step and repeat banner stand:
✓

Prepare the Area: Choose a location with enough space. Clear the area where you'll be setting up the banner stand. Make sure the floor is level to keep your banner stand stable.

✓

Unpack the Components: Carefully remove all parts of the banner stand from the packaging. This typically includes poles, a retractable banner, the stand base, and potentially some tools for assembly. Lay out all the pieces on the ground to see what you're working with and refer to any included instructions.

✓

Assemble the Frame: Start by constructing the frame that will hold your banner. Depending on your model, this could involve connecting sectional poles together to create a large rectangle or extending a telescopic pole to the desired height and width. Ensure all connections are secure.

✓

Assemble the Frame: Start by constructing the frame that will hold your banner. Depending on your model, this could involve connecting sectional poles together to create a large rectangle or extending a telescopic pole to the desired height and width. Ensure all connections are secure.

✓

Attach the Banner: Once your frame is assembled, it's time to attach the banner. If it's a retractable banner, it will pull out from a base and you'll hook or clip it to the top of the frame. If it's a separate banner, you'll need to secure one edge to the frame (often starting at the top), making sure it's level, and then gradually attach the rest, ensuring it's taut and smooth to avoid wrinkles or sagging.

✓

Secure the Banner: Depending on the design of your stand, you may need to secure the banner at the bottom or sides. This might involve clipping it in place, inserting pole edges into pockets sewn into the banner, or screwing parts of the frame into place to lock the banner.

✓

Adjust and Straighten: Step back and examine the banner. If your stand allows for adjustments, make any necessary changes in the banner's height or tension to make sure it's completely flat and at the right height. Use a level to confirm it's straight.

✓

Anchor the Stand (if necessary): If you're setting up in a high-traffic area or outdoor space and are concerned about stability, consider using weights or ties to anchor the stand, preventing it from tipping over.

✓

Final Check: Do a final inspection to ensure the banner is secure and displays correctly. Check that all fastenings are secure and that the banner is taut and wrinkle-free.
Remember, setup can vary between different types of banner stands, so you should consult with any manufacturer-provided instructions or guidelines.
Also, it's often helpful to have another person assist with the setup, especially for very large banners.
For the Best Step and Repeat Banners and Stands, Choose Easy Signs!
Don't leave your new Step and Repeat Banner or its stand up to chance. Choose a company that knows the business of backdrops and banners and can give you the product you deserve.
At Easy Signs, we manufacture a large range of digitally printed signage using the latest technology, including large format HP dye sublimation printers and Latex printers.
We continually invest in the latest state of the art machinery to ensure that we supply consistent, high quality products to the US market at the lowest cost.
Not only that, but our efficient production system allows us to provide some of the fastest production times of any signage manufacturer in the United States - and we ensure that we meet our quoted dispatch dates.
When you're ready to invest in a Step and Repeat Banner and stand for your next event, come check out what Easy Signs has to offer.
We promise – from birthday parties to red carpets…you won't be disappointed!