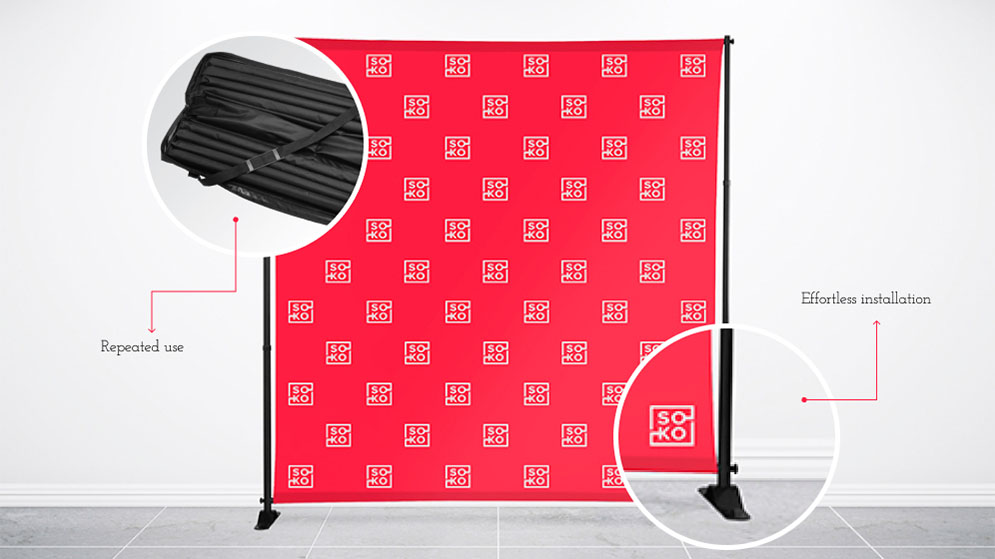 There's something about attending special events that makes all of us feel more than just excited.
Special events connect us to each other, remind us of our achievements and good fortunes, and give us a chance to celebrate collectively.
Planning the perfect event is a big deal. And finding the perfect items to make it memorable is as well.
Key Takeaway
Special occasions and major events prioritize personal touches and a Step and Repeat can check both of those boxes.
Step and Repeat Banners add a truly personal touch to any event.
A well-designed Step and Repeat Banner can bring numerous benefits to your next gathering without breaking the budget.
No longer just for the red carpet, Step and Repeat Banners are now being used for all sorts of events, from fundraisers and family gatherings to weddings and graduations.
Browse our FREE
Customizable Templates
Get ready to shine with our ultimate step-by-step guide on Step and Repeat Banners, your picture-perfect backdrop solution.
If you are planning an important event – whether it be professional or personal – adding a Step and Repeat Backdrop to your party planning budget is going to be well worth the cost.
Are you ready to learn why?
Budget-Friendly Backdrops: Why Step and Repeat Backdrop Banners Will Be Well Worth the Cost
We know that Step and Repeat Backdrops have become an indispensable entertainment and marketing tool for the entertainment industry and corporations to help promote everything from red carpet galas, to trade shows.
But now these large custom Step and Repeats are also being used for smaller family and community events, and the reasons are pretty obvious: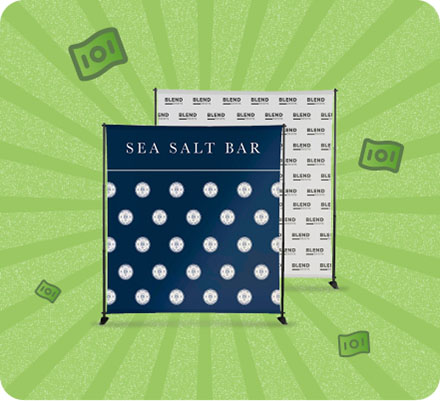 1. Custom Banners Create High Visibility

Step and Repeat Banners are designed to stand out—their expansive size and captivating designs instantly draw attention in even the most crowded settings.
Whether you're hosting a bustling corporate event or taking part in a local art show, these banners ensure that your product or brand take center stage…capturing the attention of attendees, media personnel, and social media enthusiasts alike.
2. A Repeat Banner is Cost-Effective

Event planning can be expensive. Luckily, Step and Repeat Banners offer exceptional value for money.
Think about all the different products that a hostess or event planner may purchase for their event. From promotional items like swag bags to media kits and merchandise samples, the expenses associated with planning any sort of gathering is often a big line item for a company or individuals to consider.
But Step and Repeat Banners are a low-cost and high-yield item. Not only are they a great way to promote your product or special day, but people are drawn to well-designed banners as a way to snap some social media-worthy photos to save and share…a very inexpensive keepsake to take away from any occasion.
Not only that, but the durability and reusable nature of these banner stands make them a worthwhile investment for all types of event photography, as they can be repurposed over and over, thus spreading out the cost per use.
3. Repeat Banners = Modifiability

Step and repeat banners are not one-size-fits-all; their sizing and versatility allow them to be customized for different types of events.
For example, you can adjust your Repeat Banner to fit into a variety of spaces, thanks to their adjustable banner stands and telescopic poles.
Whether you need your banner to take center stage in the middle of a large trade show or need to have the actual banner size be smaller so as to not overwhelm at a smaller event, the fact that a Step and Repeat can be adjusted is a huge cost saver and proof how many ways they can be used in different situations.
4. All-Purpose Versatility: A Marketing Tool for Diverse Occasions

Not only is the size adjustability a reason why Step and Repeats are not confined to a single event type, but their aesthetic also makes them suitable for a wide range of occasions.
From glamorous red carpet galas to fun-filled family events, Step and Repeat Banners elevate the ambiance and enhance the overall experience of any fun and festive situation.
5. A Quick and Simple Setup: Effortless Installation for Hassle-Free Events

Step and repeat banners are designed to be easy to set up and take back down, which eliminates the stress of complicated and time-consuming set-ups.
A Step and Repeat Banner Stand typically comes equipped with a versatile adjustable stand, allowing for quick and efficient installation. They also have easy-to-follow instructions always included and thoughtfully designed items like a pocket sleeve to keep each pole intact and vinyl bags that are great for storing in between events.
When you are setting up for any sort of an event, time is precious. The designers of a good Step and Repeat backdrop banner know this.
6. Repeat Banners Have Social Media Appeal: A Buzz Generator for Brand Recognition

Step and repeat banners provide an irresistible backdrop for social media photographs, transforming everyone who stands in front of them into an ambassador for your company or brand.
By sharing their experiences online, all of your guests and attendees are suddenly spreading the word about your brand, amplifying your reach, and generating valuable social media buzz for whatever it is that you are trying to promote.
7. Step and Repeats Provide a Professional and Polished Image

Step and Repeat Banners exude professionalism and sophistication, creating a polished and memorable first impression from the moment every guest shows up to your occasion.
When designed with high quality print ready files, these potential photo booth backdrops elevate every event's ambiance and convey a sense of organization, attention to detail, and brand commitment.
This positive impression leaves a lasting impact on attendees and reinforces your brand's credibility.
And not only that…but they just look cool!
8. Long-Lasting Durability: A Sustainable Investment for Repeated Use

Step and Repeat vinyl banners are crafted from high-quality materials that can withstand the rigors of repeated use.
From the lightweight aluminium frame to the well-placed pole pockets, the durable construction of a Step and Repeat will ensure that these marketing and entertaining investments will remain vibrant and visually appealing after many uses, making them a sustainable investment that can be repurposed for multiple events.
Though your own personalized banners will have the graphics and messages that you want to convey, the material from which they're created should always be one that is sustainable, easy-to-care-for and inexpensive to purchase
9. Repeat Banners Step Up Your Brand Recognition

Step and repeat banners serve as powerful visual reminders for your brand, effectively etching your brand identity into the minds of attendees long after the event itself has come to an end.
The repeating pattern of your logo and/or other graphics creates a strong visual association between what you're trying to market and the people who are attending your event, making it much easier for those attendees to recall and recognize your brand and pass the information along to others.
Looking for Lots of Adaptability at a Good Price? Then a Step and Repeat is Perfect for You!
Step and Repeat Banners offer exceptional adaptability, catering to businesses, organizations, and gatherings of all sizes and budgets.
From a blank canvas to a ton of versatility, these backdrops allow them to be repurposed for various events, which will ultimately maximize their cost-effectiveness and your satisfaction.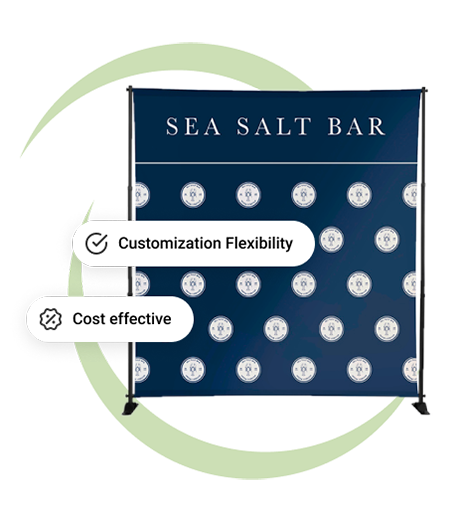 Whether you're a small startup, a large corporation, or someone who is trying to plan a local event, a Step and Repeat vinyl banner from Easy Signs might be exactly the item you need to order next.
Ready to check it out? Reach out to our experts today who can quickly help you get started!
Your Ultimate Guide To
Step And Repeat

Banners


Strike a pose with our Step and Repeat Banner guide!
Elevate your event photography game.