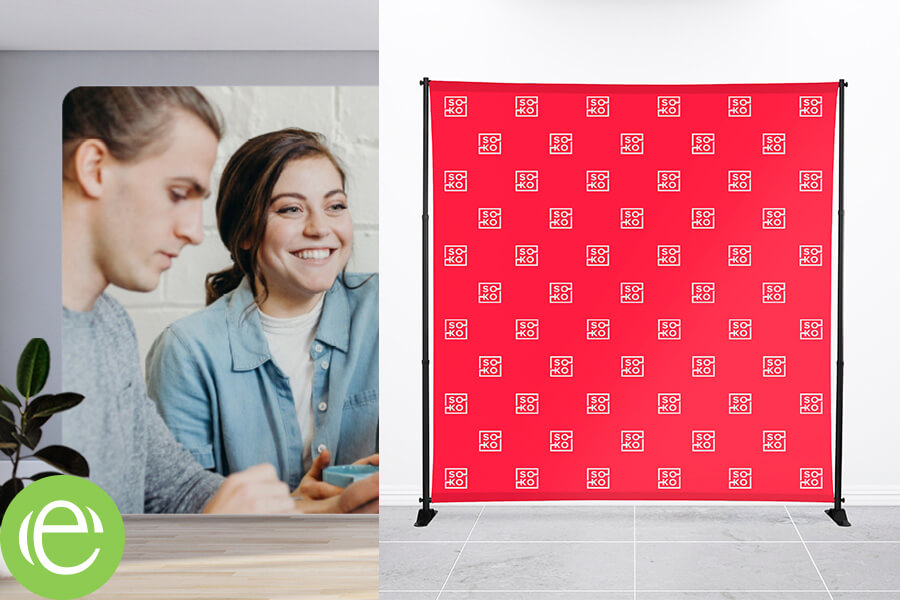 You've made a big decision to invest some of your marketing budget or event money into a Step and Repeat Banner.
Congratulations! Step and Repeat Banners are a great way to bring recognition to your event or brand, not to mention unforgettable memories and photo op fun.
The next question is: What size Step and Repeat Banner is going to work best for your event?
Key Takeaway
Selecting the right size Step and Repeat Banner is crucial for making a memorable impact at your event.
Factors such as venue dimensions, the number of attendees, and sponsorship recognition should influence your size choice.
Balancing budget constraints with visual impact is also essential when designing your banner.
If you are ready to design your Step and Repeat Banner but aren't exactly sure what size is right for you, let's look at some of the key considerations that will help you choose with confidence.
The History Behind the Step and Repeat Banner
Step and Repeat banners have a rich history, originally gaining prominence in Hollywood circles as a unique feature of various award shows as well as high fashion events.
You've likely seen your favorite actors, sports stars, or political candidates posing in front of these promotional backgrounds, and they've become an integral part of all types of red carpet culture.
This fascination with what Hollywood's elite wear on the red carpet is a driving force behind the success of Repeat Backdrops but it doesn't end there. Often the logos and brand names displayed on these backdrops end up receiving global visibility…and companies everywhere began to take notice of this.
While Step and Repeat banners are now a staple at most of our favorite celebrity events, their popularity has begun to gain the attention of others as well.
Now we see brides, birthday party planners, people planning reunions, and corporate event organizers have all begun to get on the Step and Repeat bandwagon, realizing that these repeat backdrop displays may have a place at their events as well.
Whether you are looking to plan a festive get-together for a special occasion or have a large company branding launch about to happen, designing a Step and Repeat Backdrop may very well be on your list of things to do.
Choices, Choices: How to Decide Which Size Step and Repeat Banner is Best for You
When it comes to Step and Repeat Banners, the size that you decide to have created for you is definitely going to matter.
Different types of events will call for different-sized Step and Repeat Backdrop banners, depending on the type of venue, the number of people in attendance, and what the overall vibe is that you're trying to create.
Though having a Step and Repeat wall behind your attendees is going to draw a lot of interest and opportunities for branding potential, they can also deter you from your event if you're not careful. and choosing the right size is essential for achieving your event or branding goals.
Let's look at some of the available sizes of Step and Repeat Banners and provide insights into why you might choose one over another.
1. Small Step and Repeat Banner
Size: Typically around 4 feet by 6 feet or smaller.
Reasons to Choose a Small Step and Repeat Banner:
✓

Intimate Events: Small Step and Repeat Banners are perfect for intimate gatherings, such as private parties or small corporate meetings, where there's limited space or a desire for a more personal touch.

✓

Cost-Effective: They are budget-friendly, making them an excellent choice when you need a banner for a modest-sized event without breaking the bank.

✓

esthetic Appeal:A Smaller banners can create a more subtle and refined backdrop, adding an element of sophistication to your event.
2. Standard Step and Repeat Banner
Size: Usually around 8 feet by 8 feet to 8 feet by 10 feet.
Reasons to choose a Medium Step and Repeat Banner:
✓

Versatility: Standard-sized banners strike a balance between visibility and portability. They work well for various events, from corporate conferences to medium-sized parties.

✓

Photo Opportunities: With enough space for a small group to pose, these banners are ideal for capturing group photos while showcasing your brand.

✓

Balanced Budget: They offer a reasonable compromise between size and cost, making them suitable for many event budgets.
3. Large Step and Repeat Banner
Size: Typically 10 feet by 8 feet or larger.
Reasons to Choose a Large Step and Repeat Banner:
✓

High Visibility: Large banners make a bold statement, ensuring that your branding elements are highly visible in event photographs and media coverage.

✓

Crowded Events: For events with a significant number of attendees or where multiple people will be posing at once, a large banner ensures everyone fits comfortably in the frame.

✓

Maximized Impact: Large banners are well-suited for events where brand exposure and visibility are top priorities, such as red-carpet events or major product launches.
4. Custom Step and Repeat Banner
Size: Tailored to your specific event needs.
Reasons to Choose a Custom Step and Repeat Banner:
✓

Brand Alignment: Custom banners allow you to align the size precisely with your branding, theme, and event objectives.

✓

Unique Requirements: If your event has unique space constraints, a custom-sized banner can be designed to fit perfectly.

✓

Premium Events: For high-profile events that demand exceptional attention to detail, a custom Step and Repeat Banner ensures your backdrop is as unique as your occasion.
By considering the size that best suits your event type, venue, and objectives, you can ensure that your Step and Repeat Banner enhances your event's aesthetics, provides memorable photo opportunities, and effectively showcases your brand or message.
Most Asked Questions About Step and Repeat Sizes and More
Though Step and Repeat Banners are a great resource for anyone trying to throw an unforgettable event, you'll want to make sure all your questions are answered before you order one.
Here are some answers to the most frequent ones:
What are the most standard sizes for Step and Repeat Banners?

Standard sizes vary, but common dimensions include 8 feet by 8 feet, 8 feet by 10 feet, and 10 feet by 8 feet. However, custom sizes are also available to suit specific event needs.

How do I best design a Step and Repeat Banner?

Designing a Step and Repeat Banner involves creating a layout with logos or graphics arranged in a repeating pattern. Many printing companies offer design services to assist with the process, ensuring that logos are spaced evenly and sized appropriately.

What are the typical types of materials that are used to design Step and Repeat Banners?

Step and Repeat Banners are typically made from materials like vinyl or fabric. Vinyl is durable and weather-resistant, while fabric offers a more upscale look. The choice of material depends on the event and budget.

Where should I place the Step and Repeat Banner at my event?

Plan to place your new banner in a highly visible location, such as near the event entrance, the red carpet area, or the main stage backdrop. It should be easily accessible for attendees and the media, but not pull attention away from a main stage or product area. Repeat backdrops are meant to enhance, not overwhelm.

How much does a Step and Repeat Banner cost?

The cost of a repeat pattern backdrop will vary based on factors like its size, the materials used, how customized it is, and printing quality. Small banners can start at around $100, while larger, custom banners with premium features can range from several hundred to a few thousand dollars.

When shopping for a repeat backdrop, look for companies that offer discounts for large orders or offer free ground shipping to keep your costs down. Some may also have special coupon codes at various times of the year.

How can I ensure the banner looks good in photos and I get a perfect shot with each one?

To ensure the banner looks good in photos, use high-resolution graphics, choose contrasting colors, and plan proper lighting. Make sure that your sponsor's logo size is in the appropriate aspect ratio and ask for a proof of your final layout before the banner goes to print.

When you set up the banner the day of your event, be sure to position it so that there is no glare on the matte finish and the lighting is complementary to photos.

Can I reuse a Step and Repeat Banner for multiple events?

Absolutely! Step and Repeat Banners are easily reusable. Proper care and storage can extend their lifespan, allowing you to use them for multiple events for many years to come.

How long does it take to produce a Step and Repeat Banner?

Production times vary depending on the complexity of the design, size, and the printing company's workload. When you use a reputable company's website like Easy Signs, your Step and Repeat Banner can be done in as little as 24 hours.
The Picture Perfect Backdrop: Your Ultimate Guide to Step and Repeat Banners
From corporate trade shows to star-studded nights, Step and Repeat Banners are a great way to support your sponsors while giving your guests a way to make sure they get the attention they deserve.
Whether you are hosting an intimate family get-together or a large corporate extravaganza, Easy Signs has the expertise, experience, and resources to help you design the perfect-sized banner to fit your event's unique needs.
At Easy Signs, we understand the significance of creating a polished and memorable backdrop that not only promotes your brand or sponsors but also provides a photo-worthy moment for your guests.
Want to get started on your banner design today? Then reach out to our customer happiness team today!