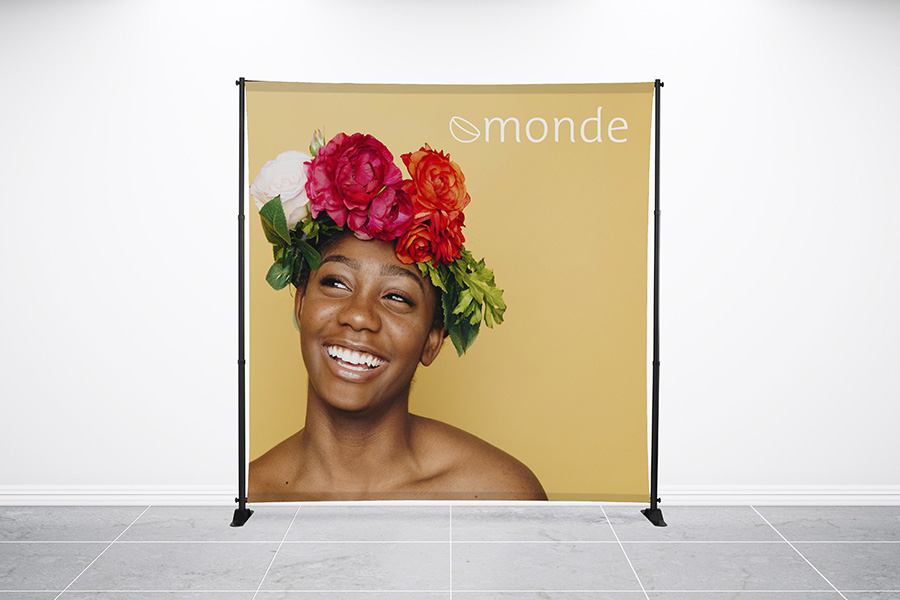 Have you been looking for a way to take your next event to a whole new level?
Enter the world of "Step and Repeat" banners, an event planner's secret weapon.
Key Takeaway
"Step and Repeat" banners are specialized backdrops with repetitive logos, elevating the visual appeal and branding impact of events.
Beyond aesthetics, they play a critical role in enhancing brand visibility and recall among event attendees.
Their popularity stems from their dual function as a photographic backdrop and a powerful branding tool, making them indispensable for event planners.
These banners, with their repetitive logos and designs, have become synonymous with red-carpet glamor and high-profile fashion events.
Not only do they offer a visually striking backdrop for photos, but they also serve as powerful branding tools, embedding company logos or messages in the minds of attendees and viewers alike.
But you may be still wondering what exactly a Step and Repeat Banner is, where they got that interesting name and what is it that makes them such a coveted element in the event planning industry.
Let's dive in and explore the magic behind this magnificent marketing tool.
What is a Step and Repeat Banner?
Step and Repeat Banners (also sometimes called repeat backdrops or repeat walls) have traditionally been seen at glamorous red carpet events and high-profile fashion shows.
Often positioned near the entrance or in a dedicated photo area, a Step and Repeat Banner serves as a perfect publicity backdrop and a prime location for photo opportunities.
As guests and attendees pause to snap pictures against the repeat backdrops, the repeated logos or brand symbols behind them allow for a company or event sponsor's logo to be visible in every photo, ensuring that there is brand visibility in every shot.
As the next person or group moves in for a photo, the brand or company's logo continues to be visible in every shot.
These photos are then often shared on social media or printed in event albums, meaning that the branding continues to resonate, amplifying the repeat banner's ability to keep reaching other people and making an impact.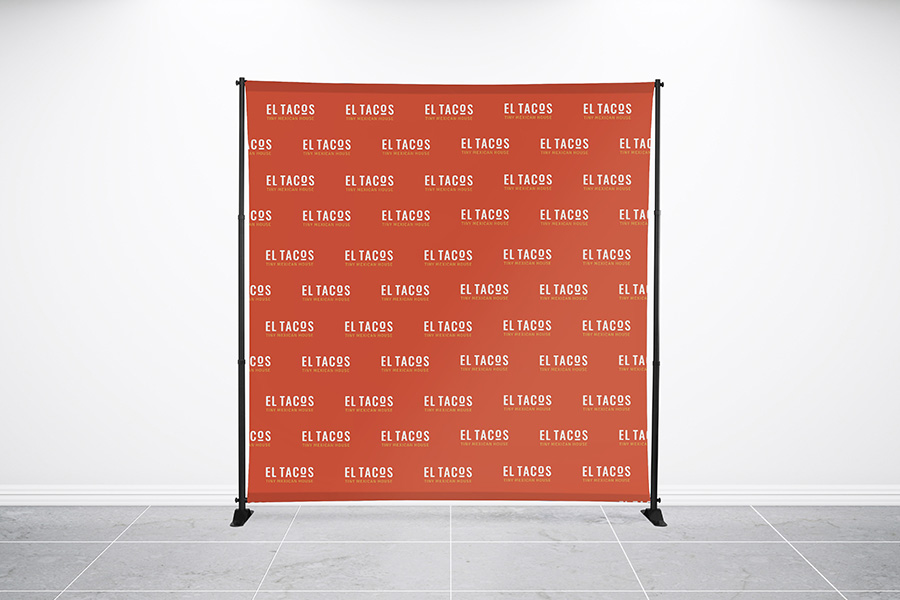 This strategic placement not only elevates the event's aesthetic appeal but also maximizes marketing potential, making these backdrop walls an invaluable asset for event organizers and sponsors alike.
Though Step and Repeat Banners were initially used in more elite settings like movie premieres or fashion extravaganzas, these banners with their interesting appeal and repeating pattern have transcended these niches.
Today, we can see Step and Repeat Banners used in all sorts of different events, from corporate product launches to star-studded charity events and even birthday parties and weddings.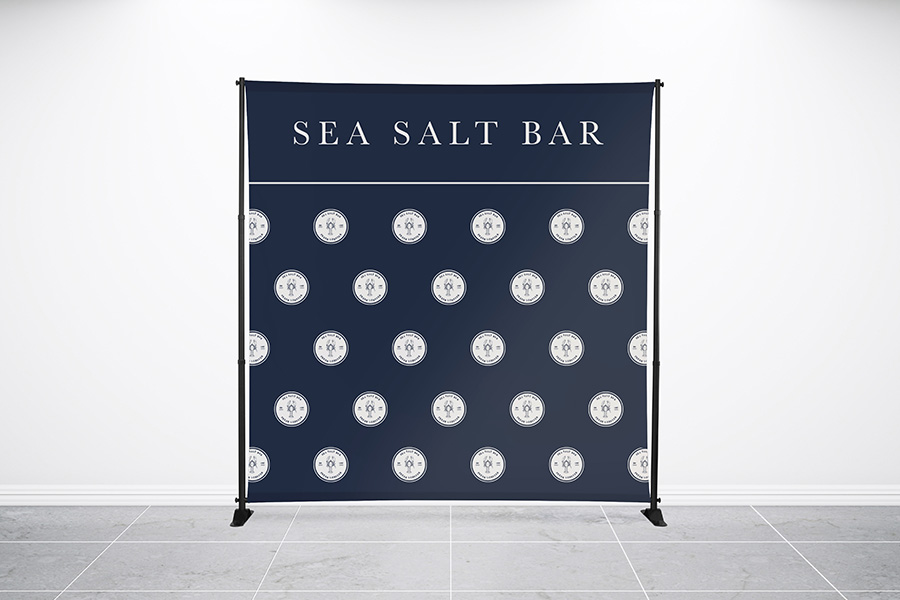 A large part of the repeat backdrop appeal lies in their ability to offer instant branding for a very reasonable cost, while also adding a level of entertainment to even attendees and guests that makes them a fun focal point for photo ops and memorable moments.
In essence, the Step and Repeat Banner has transformed from being a tool exclusive to the glitzy world of celebrities and designers to a fun and festive marketing instrument that is available and affordable to people from all walks of life.
From Galas to Graduations: Where to Use Your Step and Repeat
Step and Repeat banners are so versatile that you can use them at a variety of different events from an upscale gala to a graduation party in your home.
These impressive backdrops are a classy and creative addition to just about any gathering and do much more than just promote a company or brand…they are also a conversation piece that will prove to be a favorite place to pose for your photo-seeking groups and guests!
Here are some popular events that a personalized Step and Repeat background will fit in fabulously:
Red Carpet Events: The quintessential use, these banners provide a glamorous backdrop for celebrities and guests, ensuring branding is prominent in every photograph taken.
Corporate Conferences: For company meetings or industry conferences, a Step and Repeat banner can showcase company logos or event sponsors, adding a professional touch.
Product Launches: Highlighting the new product's logo or imagery, these banners create a consistent branded environment, crucial for marketing and PR photographs.
Charity Fundraisers: NGOs and charities can use these banners to showcase their logo or the logos of their sponsors, acknowledging support and ensuring brand visibility.
Weddings and Anniversaries: A more recent trend, couples use Step and Repeat banners with their names, the date, or even a monogram, giving guests a fun photo-op spot and a way to make sure that their special day is (literally!) unforgettable.
Birthday Parties: Especially popular for milestone birthdays, these banners can be customized with the celebrant's name, photo, or a special message.
Trade Shows and Exhibitions: Businesses use them to highlight their brand or specific products, ensuring they stand out in a bustling exhibition hall.
Sporting Events: Teams or event sponsors can showcase their logos, making them perfect for fan photos or press coverage.
Music Concerts and Festivals: Bands, artists, or event sponsors can get visibility, especially if there's a designated photo or meet-and-greet area.
School and University Events: From graduations to special campus events, educational institutions can use these banners to highlight school spirit, achievements, or event specifics.
Each of these events, with its unique audience and purpose, can be a great place to have a Step and Repeat banner to help enhance the ambiance and amplify any branding or message that the host or party planner wants to make sure is not forgotten, long after the day has passed.
Step and Repeat Backdrop Brilliance: How to Create the Best Step and Repeat Banner
Creating a Step and Repeat banner will require a combination of creativity, precision, and attention to detail. Let's take a look at some ways that you can make sure your Step and Repeat turns out exactly the way you want it to.
✓

Define Your Purpose: Before you do anything else, decide what the goal of your banner is going to be. Is this something you will use repeatedly or is it for a single and unique event. Are you promoting brand visibility, acknowledging sponsors, or is it purely for fun and entertainment reasons? Knowing the answers to these questions will help direct your overall design.

✓

Choose the Right Size: Depending on the type of event and the number of people being photographed simultaneously, the size of your banner may need to be adjusted. While most repeat backdrops are the standard 8'x8' size, this can be changed to fit your needs. (If you aren't sure what size you need, you can always reach out to our online design team for help.)

✓

Design Your Layout: Decide on the arrangement of logos or designs that are going to be the heart of your backdrop. This is where you get to choose whether you want your banner to be created such that brand logos are clearly visible and repeated, or if you have a specific message or date you want displayed. Using an online design tool can be helpful here.

✓

Select a Quality Material: Most backdrop manufacturers will suggest either a fabric, polyester, or vinyl banner and can explain to you why they use the fabric they do. It's always a good idea to research the fabric used by the company you choose before you place your order so you know exactly what to expect.

✓

Ensure High-Resolution Logos: To avoid any pixelation or blurring on your banner, make sure that all logos and designs used are of the highest resolution possible. You also will want to ask the company printing your banner if they use a matte finish, as this will make a big difference in reducing any glare off the banner when photographed.

✓

Incorporate Brand Colors: Though you'll want to use your company, logo, or event's event-themed colors, make sure that the palette is not too overwhelming. Though Step and Repeat Banners provide a beautiful backdrop for photo ops, you don't want the colors on the banner to distract from the subjects being photographed. A well-balanced color scheme ensures that attendees stand out, while the branding remains subtly prominent in the background.

✓

Get Some Feedback: Before you send off your final design, run it by colleagues, the guest(s) of honor, or an online design consultant. Remember that your Step and Repeat Banner is not just a place to provide free advertising for a product or increase brand awareness for your company or event. You want to make sure that the banner you've created is going to serve as a tasteful piece of artwork that blends in with your event and doesn't compete with it.
Lights, Camera…Let's Create! With Easy Signs, It's Easy!
When you're ready to get started on designing your perfect Step and Repeat Banner, reach out to Easy Signs to help with all your design needs.
As an online signage company with a strong reputation for high-quality and great customer service, Easy Signs is an industry leader in all things related to event branding and display solutions.
Our expert design team can guide you through every step of the creative process, ensuring your new banner captures the complete essence of your brand or event.
Our Step and Repeat Adjustable Banners provide a great low-cost backdrop for press conferences, corporate events, red-carpet occasions, and so much more.
Not only are our Step and Repeat Banners made from the highest quality SignWeave™ polyester fabric material, but our banner stands are the best as well.
Each banner stand is made with twist-lock adjustable poles which can vary the height and width - so you select the banner size you want and set up the stand to suit it.
With state-of-the-art printing technology, a range of design options, and quick turnaround times, we can guarantee you a seamless experience and a banner that stands out.
When you're ready to get started on designing your perfect Step and Repeat Banner, reach out to Easy Signs to help with all your design needs.