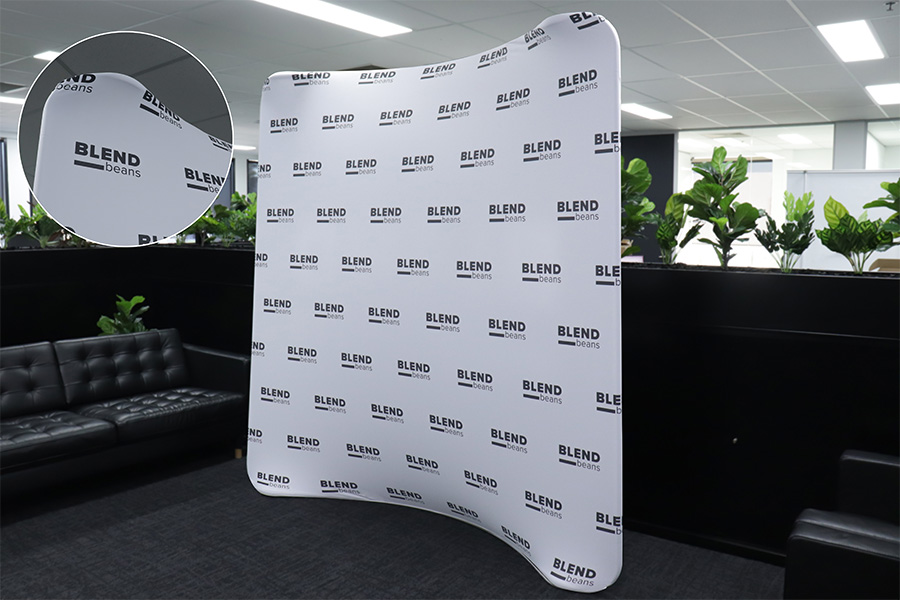 In a time where special occasions and big events are more customized than ever before, finding ways to bring a personal touch to your important day, function or celebration can sometimes be a challenge.
From the perfect Pinterest weddings to highly creative corporate events, everyone is striving to create an experience that is both unique and memorable.
And this is where a Step and Repeat Banner can really make your next celebration shine.
Key Takeaway
Today's special occasions and major events prioritize personal touches and unique experiences, distinguishing them from others.
Step and Repeat Banners can add a truly personal touch to any event, reminding your guests and attendees about the day long after it's over.
Whether it's for personal or professional reasons, having a well-designed Step and Repeat Banner can bring numerous benefits to your next gathering.
The pressure to host events that resonate personally with attendees can feel very overwhelming these days.
However, amidst the whirlwind of themes, decorations, and personalized touches, one often underappreciated element can make a significant difference: the backdrop.
Let's look at the benefits of a Step and Repeat Banner and how the right one will put a personalized mark on your next occasion.
What is a Step and Repeat Banner?
A Step and Repeat Banner (often simply referred to as a "Step and Repeat" or a "Repeat Backdrop" is a backdrop that prominently displays logos or other brand imagery in a repeated pattern.
Originating from celebrity events, Step and Repeat Banners have traditionally graced red carpets and fashion shows, where famous attendees "step" in front of the backdrop to have their photos taken before moving on, while the process "repeats" with the next star.
This method ensures that brands or events get optimum coverage in all photographs and that the fashion icons and movie stars are happy with the way their photos turn out.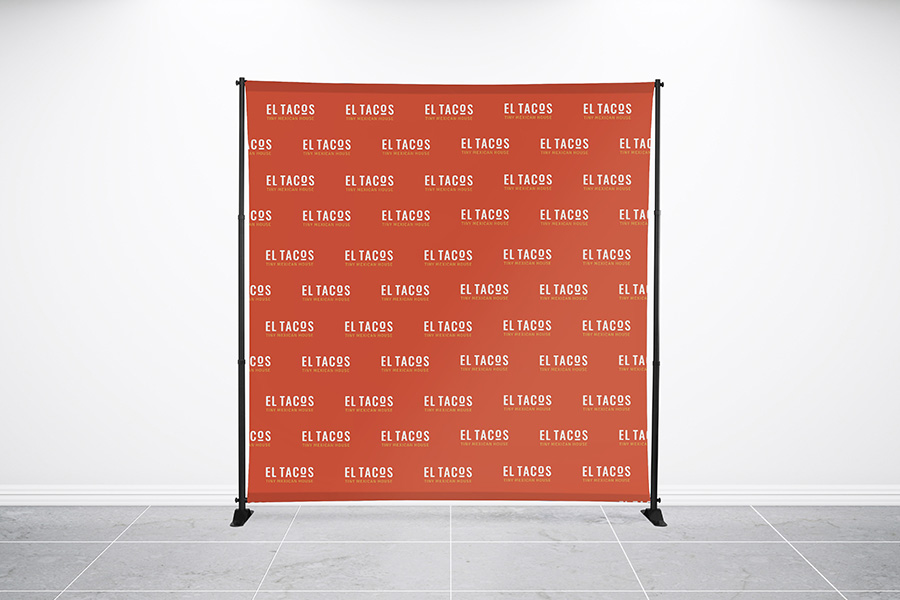 Over time, the appeal of Step and Repeat Banners has transcended the glitz and glam of Hollywood.
Today, Step and Repeat Banners have begun to be seen at all sorts of different events ranging from corporate launches to birthday parties.
The allure lies in their ability to give any event a touch of celebrity charm, while also making them more personalized and memorable.
By stepping in front of the banner, striking a pose, and then making way for the next guest, every attendee gets their moment in the spotlight, while the host gets to make sure that their brand or event is visible in every snap.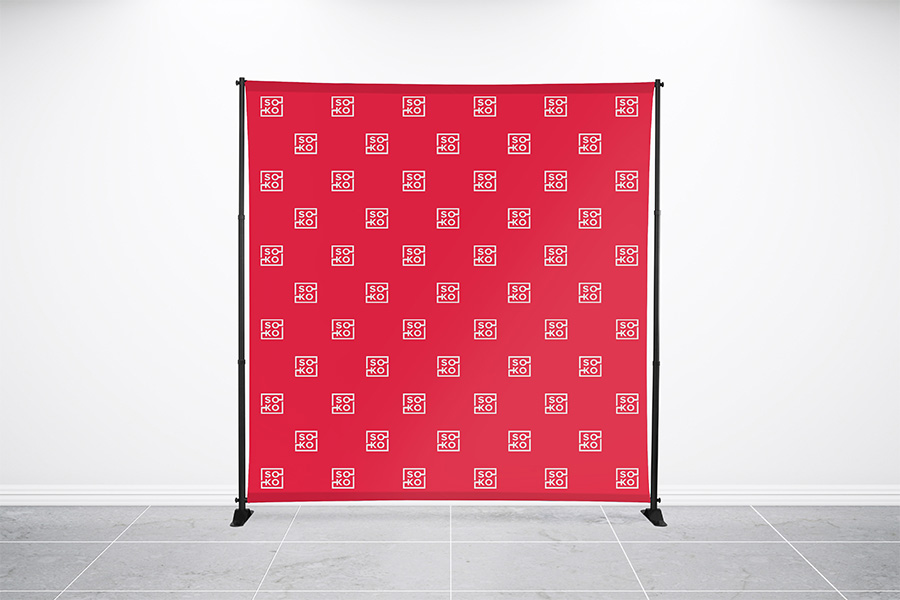 This combination of personal experience and branding potential has made Step and Repeat Banners a favorite in the events industry.
Customization and Creativity: The Biggest Benefits that Backdrop Banners Bring
Backdrop banners can bring a whole range of benefits to a company, an individual, or any occasion where branding, photo opportunities, or setting a themed ambiance is part of your goal.
1. Step and Repeat Banners Increase Your Brand Visibility: A Step and Repeat Banner ensures your brand logo or event details are consistently in view. From an empty canvas to a well-designed layout, the right backdrop banner can make it clear that your event is hosted by YOU.
For example, at a product launch, having your new creation's name and logo displayed in a repeating pattern across the banner ensures that every photograph captures that branding, creating an association between you, the event, and the product that is going to be hard to forget.
2. A Backdrop Banner Brings a Professional Aesthetic to an Event: Backdrop banners can give any event a polished and sophisticated ambiance.
Imagine you have a small-scale local business conference to plan. Having a Step and Repeat Banner at the entrance can make this event appear much more sophisticated and more important, thus impressing all that attend.
3. Having Your Own Personalized Banners Creates a Chance for Interactive Engagement: Whether it's a wedding reception or a red-carpet awards show, everyone enjoys posing in front of a well-designed backdrop.
Step and Repeat Banners add a lively and interactive component to all sorts of occasions.
At a wedding, for instance, a banner with the couple's names and wedding date becomes a fun spot for guests to snap photos and create memories, while a red-carpet event always brings out more festive energy when an impressive banner stand is positioned behind it.
4. Personalized Banners Also Increase Social Media Engagement: A well-designed and personalized Step and Repeat backdrop is not only perfect for branding, photo opportunities, and setting a themed ambiance, but it's also essential for all the hype that comes after the event.
Having a well-planned function is no longer enough. Today, the photos taken during your occasion need to be worthy of being posted on Facebook, Instagram, and all sorts of other social media platforms.
In our digitally driven society, where moments are captured, shared, and relieved online, it's essential for events to provide visually appealing settings that attendees can proudly showcase.
This isn't just about vanity or trends…it's about maximizing the reach and impact of your event.
A beautifully captured moment from a well-orchestrated event can spark interest, engage wider audiences, and amplify the essence of your brand or the purpose of your gathering when it's widely shared on social media. And a beautiful backdrop banner can make this possible.
5. A Custom Step and Repeat Banner Make for a Memorable Keepsake: We all know the importance photos play long after an event is over.
When photos are taken in front of a thoughtfully designed Step and Repeat backdrop banner, they become cherished memories that attendees are likely to keep and share for years to come.
At a milestone birthday party, for example, different groups of guests can take photos of themselves in front of the banner, creating keepsakes from this special day.
6. Sponsor Acknowledgments are Easy with Repeat Banners: If your event has any sponsors, being able to feature their names and logos in a prominent way will provide your sponsor(s) with some valuable exposure.
At a community fundraiser or fun run, for example, a Step and Repeat Banner could feature the logos of local businesses that sponsored the event, offering them recognition for their support.
7. Repeat Backdrops Make for Cost-Effective Advertising: Repeat backdrops allow a company or a brand to have multiple exposures for a one-time investment. Well-made backdrop banners are designed to be used over and over again, meaning that the initial cost can end up being well worth it.
Step and Repeat Banners that are used at places like weekly farmer's markets or monthly music festivals mean that not only will visitors see the same logos and brand names over and over again, but the backdrop banner will quickly begin to justify its cost, the more it's used to promote those regular events.
8. Repeat Banners Step Up the Red Carpet Feel: There is no denying that anytime a group of incoming guests see a Repeat Banner stand set up at an event, there's a good chance they'll know that the event is going to be special.
At a school prom, for instance, having a Step and Repeat Banner makes students feel like celebrities for the night. A Step and Repeat Banner stand that's set up at a fundraising event will also bring a level of glamor and glitz to that evening that no one will forget.
The Making of a Custom Backdrop Banner
Creating a custom backdrop banner involves a few essential steps, ensuring it not only looks great but also serves its purpose at any event.
Materials:
Most Step and Repeat Banners are either polyester, vinyl, or fabric banners.
A vinyl banner is favored for its durability, vibrant color printing, and resistance to various weather conditions.
On the other hand, polyester fabric banners offer a higher-end feel, often preferred for indoor events, trade shows, and ceremonies where elegance is a priority.
The Importance of Banner Size and the Banner Stand
Making sure that you've chosen the right banner size for your Step and Repeat is important when it comes to ensuring optimal visibility and functionality.
Though an 8' by 8' actual banner size is the most common, there are plenty of other options as well.
Meanwhile, the banner stand you choose is also crucial for stability and contributes to a professional overall look.
Make sure you invest in a Step and Repeat Banner that has a versatile adjustable stand and is made from a lightweight aluminium frame with high quality PVC flex telescopic poles.
You'll also want to look for one that has a pocket sleeve at both the ends to ensure that the setup is easy and secure, and that the banner hangs beautifully, with no creases or wrinkles across the front.
Easy Signs: When Personalization Matters
When you want banners and signage that goes beyond just the basics, choose Easy Signs.
At Easy Signs, all of our materials are made using print ready files with the highest quality state of the art machinery.
Our efficient production system allows us to provide some of the fastest production times of any signage manufacturer in the United States - and we ensure that we meet our quoted dispatch dates.
Regardless of your next event's marketing needs, Easy Signs is ready to help you create the customized marketing tools you need to make your event fun and memorable. Come check out what we have to offer you today!